Posted on December 28, 2011 by Jonathan Cooper
I honestly couldn't believe it. Singing was never my thing, yet I had to get up, walk over to the microphone, and stand next to four others who would be partaking in this musical event. Zach, the guitarist, started playing, and before we knew what was happening, we started singing. Midway through the first song, I looked up, and I saw 300 Haitian men, women, and children, all listening intently, despite the fact they couldn't understand a word (they spoke Creole). After the song was over, they all cheered and clapped, and even though we weren't the best singers they had ever come across, their gratitude for this simple gift was enormous. I was singing at a Haitian church in Croix des Bouquets, a city in the poorest nation in the western hemisphere.
Over Thanksgiving week, while some of you were catching up on sleep, spending time with relatives, and kicking back and relaxing, I was on a mission trip in Haiti. We left on Friday, November 18th, and got back the night before Thanksgiving. We set out hoping to give, but instead we received. Our time was something priceless that we knew was a desired commodity in such a poverty stricken land, but when it all came to a close, it felt as if we were the ones who had done the receiving.
This might sound strange, but it's the most legitimate thing I've ever written. We gave the people of Haiti our time. We created a second bathroom for a school of 100 children (see picture below), and we conducted a few medical clinics that helped over 300 individuals get the medical treatments they needed. We set out thinking we were going to give, and that we did, but we also received something that wasn't physical. We received the gift of happiness. It sounds so cliché, but until you actually see the people who have nothing, and see how eternally grateful they are for even the smallest of things, you haven't seen what it's like to be genuinely happy.
This (the photo on the left) was the only bathroom for a school of 100 children. It was a concrete hole.
During the trip I got a chance to play soccer with one of the children at the school. In your mind you might be picturing a soccer ball, but in reality we didn't have one. What we did have was a rock. Yes, a rock. We would kick it around, with no goals, just for the heck of it. You might laugh, but the child I was playing with was having the time of his life. I was giving my time, but I received a smile from his face that will stay with me to my grave.
In Haiti, the technology we take for granted is non-existent. One day I pulled out my camera, and I let one of the little boys play with it. He started taking pictures of me, and he couldn't get over the fact that he could see my face on a little screen. He quickly became quite the little photographer. Every time he showed me a picture, his face lit up brighter than the sun. This is him & me in the picture below.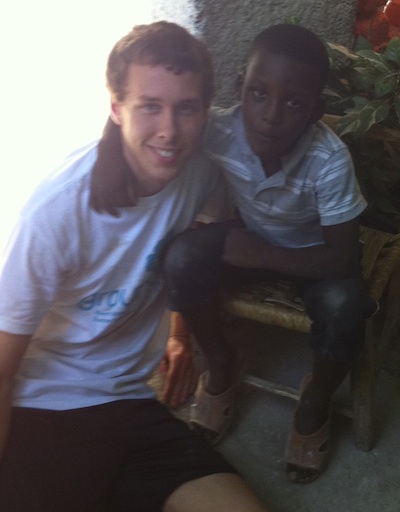 If there's anything I want you to leave here with, I want you to know you have something millions of people in this world want. You have something that people 15 minutes down the street would die for. What you have is something so easy to give, something so powerful and world changing, but only a few step back and realize what is. The thing you can give right now that would make the biggest difference in this world is your time.
Think about it. We're not talking about a few toys, a TV, or a cut of your paycheck. We're talking about something much more valuable, something much more reasonable to ask for.
Here's the best part: When you give your time, you get more in return. This might seem a little selfish, but it's the best example of a win-win this world has to offer. The time you spend with the less fortunate is life changing.
Think about some of the local charity organizations in your community. Think about schools in your area that would love to have you in the classroom. Think about the homeless shelter down the street, or the food pantry just a 15-minute drive from where you live. I'm not asking you to go to Haiti, I'm just asking you to go find people in your community that need your help. Whether you love helping children or the homeless, there are people all around you that would love your time more than anything.
I encourage all of you just to give up a few hours of your time this holiday season. Something so small to you makes more of a difference than you could ever imagine.
Looking back on it, the 6-day trip I had in Haiti was the best thing that ever happened to me. I got the opportunity to help those in need, and in doing so, I was left with a lasting impression of a child looking up at me, smiling, thanking me for something as small as a game of soccer with a rock.
By sharing this post, whether it's on twitter or Facebook, you can make a huge impact. Let people know what you're all about. Let your friends & family know that we all have something that is more valuable than anything else in this world.
Did you like this post? Did you hate it? Do you have a question or a suggestion? Please leave a comment below! I'm dying to hear what each & everyone of you have to say. Thanks for reading!
Editor's Comment: If Jon's post has inspired a burning desire in you to give a world changing gift but you need that extra accountability and support to make sure it happens, consider talking to one of Noomii's hundreds of qualified life coaches and feel free to request a free consultation.