Do you think the client bidding/referral system on Noomii is flawed? Are you finding that you're not being contacted by clients even when you're in the top five – especially after writing a thoughtful, personalized message?
Our goal here at Noomii is to make the best matches between coaches and clients. We know that the better the match, the more likely the client is to hire a coach, and the more successful that coaching will be.
So guess what? It turns out that the 3 biggest mistakes you may be making come down to one simple concept: you're bidding on the wrong client. Here are three of the most common ways that we see coaches doing this, and what you can do about it.
Problem #1: Coaches are bidding on clients who are too far away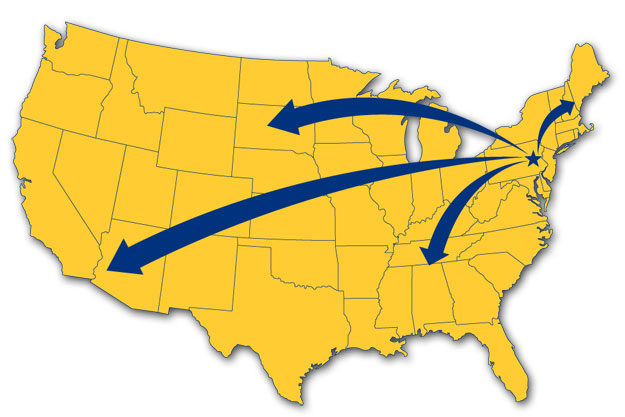 Solution: Reserve MOST of your bidding for local clients
Yes, we know that you coach clients in cities all over the world, and yes, we know your clients love phone coaching and achieve great results. But we also know that most clients – particularly the first-time coaching clients we get a lot of at Noomii – strongly prefer to work with a local coach. In fact, you're 20% likely to get a consultation request when you are local to the client.
Let's say you live in NYC. If you see a lead in Seattle that has 3 other Seattle coaches, don't bother responding. If a similar lead in Seattle doesn't have any Seattle coaches, then go for it and take your chances.
This doesn't mean you should only bid on local clients. It simply means that you should make sure the client is an extra-great fit before putting your name in the hat for someone on the other side of the country.
Problem #2: You're not reading the extra "message from Noomii"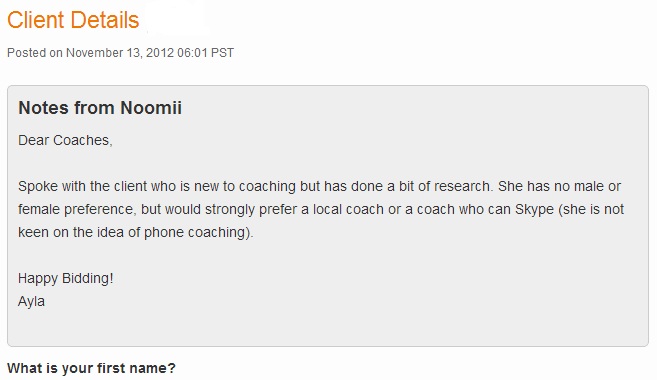 Solution: Read it, and follow the instructions!
Noomii staffers follow-up with every single lead and we aim to speak with clients requesting matches prior to their request closing. When we do, we issue a note on the client request with any special instructions. For example: "this client is looking for a female coach". Please heed those.
If the client is asking for a female coach, don't bid if you are a male. If the lead wants a local coach, don't bid if you live in a different state, country, or time zone. This valuable information is collected directly from the client lead so don't waste money by bidding on a poor fit because you missed the client instructions.
Let's work together to give clients what they want: this will get more coaches hired.
Please note that there are time lags and sometimes a coach bids and then we issue the special instruction after speaking with the lead. If this happens to you: send an email to support@noomii.com and we can remove you and return your bidding points.
Problem #3: Your profile and interview are not consistent with your client message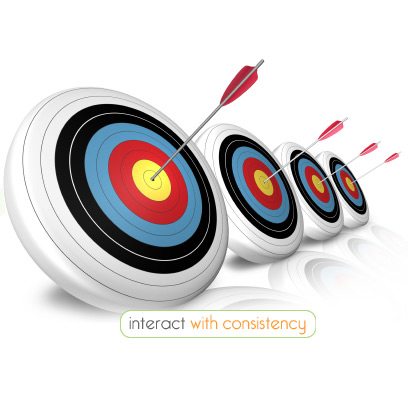 Solution: Only bid on clients if your profile is consistent with the client's request and your personal message
We see this far too often: A client comes in asking for help with a specific issue. Various coaches look at the client's description and think to themselves, "Hey, I could totally help this client; I'm perfect!". The only problem is, the specific issues mentioned by the client have nothing to do with the coach's "About Me", interview, testimonials, articles, or any other part of their profile.
Here's what we think is happening: coaches often put together a very specific profile to attract a certain kind of client (say, single moms or internet entrepreneurs). The coach's entire profile – testimonials, articles, interview – focus on that one type of client. Then they see a client who asks for something completely different, and they think "well, I can still help them even though my profile says nothing about that".
Here's the probem with this approach: Clients frequently DO look at your profile when deciding who to contact, and they WILL be put off if your profile says nothing about their issue. This is true even if you write a great personalized message to the client highlighting your experience and training in their specific problem.
The bottom line is this: you should only bid on clients when your profile is more or less consistent with what they're asking for. Because if not, they're simply going to contact a coach who is more consistent.