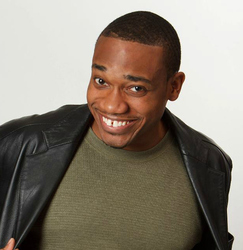 Alonzo 'ActionMF' Jackson San Diego, California
Performance Coach, Health and Fitness Coach, Life Coach
NASM Certified Personal Trainer, Motivational Speaker, Fitness Personality
Struggling to turn your passion to profits? Trapped in an unfulfilling job? Scared to take that first step greatness?? It sucks being stuck so let's get you out of that rut!
About Me
Hey there! Nice to "meet" ya! I'm Alonzo, but the really cool folks call me ActionMF Jackson! I picked up that nickname during my stint in the Navy on board the USS Peleliu, so knowing the colorful language sailors use you can probably guess what the MF is in some circles, but for all intents and purposes ActionMF now stands for Action Mobilizes Fruition!
The Tao of Action is a practice I teach that helps people take the RIGHT actions in their lives. I mean, all actions can take you where you're going, but would you take the scenic route through hell if you had to?? I'd hope not!
The principles of the tao will help you take more action in your life with the following steps:
1) Self-awareness: This is where we figure out what self-limiting beliefs and habits you have that are holding you back from your goals. Once we know what's causing you trouble and why we can dismantle the old ideas and habits that you've outgrown and come up with new, empowering habits to propel you to the level where you KNOW you can be!
2) Mental Clarity: Regaining and maintaining Mental Clarity will help you get your mind under control again, reducing anxiety and mental clutter so you can think clearer and be happier overall. This will enable you to take on life from a stable headspace and help you to be more creative and intuitive in your ideas about creating the life you dream of.
3) Intuitive Action: Once you can clearly see your next step and discern your intuition from the bullshit in your mind you need to ACT on it! I'll help you find out EXACTLY what you need to be doing and help keep you inspired and on track! It's all finding the way you can be happy and successful!
Once you can clearly see your path you can move forward with complete ease! The Tao of Action will help you cultivate a mindset of success that makes pursuing your goals feel fun and empowering! Ready to take more ACTION towards your goals? Hit the free consultation button and let's talk!
Reviews
Alonzo 'ActionMF' has 2 reviews.
Alonzo "ActionMF" Jackson is the man that produces results in his own life therefore compelling you to take a dive into your own.
With that, Zo has been consistently present in my spiritual growth and my energetic awakening. The way he guides and challenges my thought habits has been life changing. I am not the easiest client to deal with has my challenges seem to be collectively recognized as difficult as hell. BUT this guy right here not only handles my challenging moments with ease but most definitely with humor and expertise that add quick solutions and massive life changes!"

Ashley Lynn, Speaker & Love Conductor, Stockton California
Mr. Jackson is awesome. "ActionMF Jackson," is the perfect name to describe him. He's had me taking action from our first meeting! If I were left to figure out where to begin with starting my own business, I'd STILL be trying figure it out.

I had no idea what to expect when I began searching for a coach, I just knew I needed help sorting things out and moving forward. I am very pleased with the coaching and guidance Mr. Jackson provides me with on our calls. He also checks in between calls, which tells me he actually cares about my progress and wants me to reach my goals as badly as I do!

Thank you ActionMF Jackson, I look forward to continuing to receive your guidance as I become who I want to be!

D'Aydra Allen