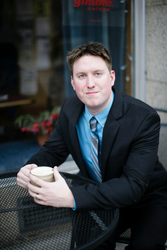 Andrew Pebley Attleboro, Massachusetts
ADD ADHD Coach, Business Coach, Entrepreneurship Coach
BS - Psychology; Master in Arts - Organizational Psychology
I work with entrepreneurs, professionals, & managers looking to transform from procrastination, poor focus & disorganization to productive, self-accountable, & better performing professionals & people
Details

Attleboro, Massachusetts 02703
Gender: Male
About Me
Consider where you are now. Think about where you'd like to be. Is something stopping you from reaching your personal idea of success?
Look at your business. Is your team functioning as it should? Could your operations be somehow enhanced to improve work flow and increase revenue?
Everything we are, and therefore experience, stems from deeply held beliefs, values and commitments. When you look for deep, fundamental change in you and your organization, it begins from within.
If you suffer the consequences of poor time-management, poor organization, and lack of focus or concentration than my Empower Your Leadership Potential coaching philosophy is for you. My coaching methods are ideal for anyone looking to diminish work stressors and improve personal management capabilities.
I help people transform into more productive, more self-accountable, and better performing individuals. Through intensive mentoring, training and development, I assist professionals, entrepreneurs and managers building and sustaining motivation, increase and manage performance, and improving overall outcomes.
With a Master's degree in Industrial and Organizational Psychology from the University of New Haven and a Bachelor's degree in Psychology from Spring Hill College, I founded my coaching and consulting practice. My unique coaching process provides structure-based tools that help clients grow and develop the gifts within, increasing creativity, focusing attention, and improving work place activity.
Contact me today for your free 30 minute coaching session to discover more about me, more about you and more about us working together.
Reviews
Andrew has 3 reviews.
Andrew has a refreshingly balanced method that is both practical in approach and calming for the soul.


Zach Z., Social Worker, Providence, RI
I'm an attorney who is self employed with ADHD. One of the biggest horrible struggles was failing to bill in a timely manner. Andrew helped me devise a system where I keep track of billing every day and don't let my ADHD cause me to spend 30 hours on my precious weekends keeping track of work that should have been done weeks ago.

Amanda A., Lawyer, Chicago, IL
As a small business owner with ADD life can get challenging. Details are not my specialty, and keeping focused on a single target gets tricky to say the least. Add to the mix that I'm also a wife, a homeschooling mom and active in many areas outside of my family and business, and I'm sitting on a powder keg of distraction. Andrew has helped me look at my days a little differently by giving me tools to compartmentalize my activities which allows me to keep focused where it's needed. He's also taught me how to give myself the freedom to explore those rabbit holes that entice me, without causing chaos. It's been great. Andrew is skilled, fun, compassionate, and gifted. Working with him has has been a joy. I highly recommend him if you feel like ADD/ADHD is, in any way, hindering your ability to live an awesome life.

Darlene H., Small Business Owner, Calgary