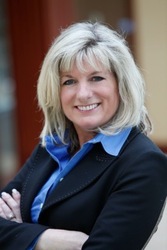 Contact Information:
416-662-6871
Visit Website
Darlene Huff cpcc csp
Leadership Coach, Business Coach, Life Coach
Move from CRAZY BUSY to connection & clarity
Are you a crazy busy professional frustrated with lack of results and yearning for purpose & connection. Not reaching your true potential and time is passing. Solution, grow the leader in you.
About Me
"FROM CRAZY BUSY to CLARITY"
~ You are yearning for a better way to live and it feels like life is passing you by!
~ You are stuck in a stressful and overwhelming situation it's taking the aliveness out of your life!
~ You are looking to balance your priorities, find the purpose that aligns with what's important to you and win your life back
IS THIS YOU? THEN READ ON!
As a Leadership and Performance Coach that serves women in business and leadership from Entrepreneurs to SMB, I get it. Helping women reignite the relationship with themselves and with those around them to find what truly brings joy and aliveness to their day.
So, I start by helping you lead your life from the inside out to leave crazy busy behind. I'll help you find clarity and connection to what's your purpose, your special gifts and your talents. You have buried them for sometime, it's time to dig them out and let them shine, NOW.
Coming from a background in retail leadership, leading of teams for The Disney Stores and Williams-Sonoma this has taught me that I have a passion for coaching business leaders to reach their potential through exceptional service both external and internal. It's all about building a better relationship to build better business. This is no different in our personal lives. I'll help you connect the person you are at work to the person you are at play. Life is so much easy then.
You can count on me as your coach to be fierce for your big life and dreams. I will support you, call you on your story and when you are playing too small. Being certified with CTI and going through their 10 month Co-Active Leadership program, I have the rigour and skills to help you push past the old patterns that are keeping you in your rut.
SO, ready to get back to living with aliveness! You have taken a big first step, you are looking for a coach. Top athletes and business leaders have a coach - you deserve the same. Hiring a coach is like a personal trainer for your life. Bravo to you!
Reviews
Have you worked with Darlene? Tell your friends!
I've known Darlene for more then 2 years. She is a warm and positive person, with great enthusiasm and puts her heart into everything she does. The goal setting workshop she did with my group was no exception. We found her engaging and enthusiastic and her step-by-step approach very thought-provoking, even on an emotional level. We all came away with new insights on tracking and conquering both short and long term goals. I look forward to the next time Darlene speaks with my clinic. She would be a valuable asses for any retail or personal coaching situation.
"I've known Darlene since last year and hired her to be my coach. I have a small business and wanted help in guiding myself and my business forward.
Darlene is really creative in guiding you through the decision process and allows me the time to make my decisions. She's a great collaborator and her unique perspective always helps me.
Coaching is future based, moving ahead and learning so that tomorrow and the day after works better. It's not about telling you what to do, but rather to support and assist. Darlene is my superstar!"
Service Category: Career Coach
Year first hired: 2011
Top Qualities: Great Results, High Integrity, Creative
I first met Darlene at the Oakville Running Room, as she was preparing to head out for a jog. Despite the rain and cold weather outside, she was smiling from ear to ear. Not only is she dedicated, she is optimistic!
Several employees had described her to me in glowing terms… and once I met her, I realized they were not exaggerating.
I invited her to speak to my group of runners (age 20-60) on a Saturday morning. She arrived early and came prepared with colour-printed pamphlets, which held easy to follow guidelines about how to build smarter goals.
Darlene was instrumental in motivating my group to set realistic goals, and taught us valuable techniques to stay committed to them.
She leads by example, and she is the result of her own personal mantra; set goals which are fun, genuine, and reasonable, and not only will you succeed, you will be happy along your journey! During her presentation, Darlene was engaging, empathetic, and an inspiring teacher.
Following her presentation, she answered all questions with passion and detail.
Her sensitivity, diligence, energy and sense of humour made working with her a joy. I highly recommend her as a coach.
"Darlene is a creative and out of the box thinker, bringing a unique and challenging perspective as an executive coach. Through Darlene's services, personal and professional goals align to create a singular focus of working within one's values to achieve end goals."
Service Category: Career Coach
Year first hired: 2010
Top Qualities: Personable, High Integrity, Creative
Darlene is a smart, insightful and incredibly supportive coach! Darlene's thoughtful and intelligent questions helped me pinpoint and clarify my needs and goals. working with Darlene, I was able to recognize and move past the stumbly blocks I wasn't seeing clearly. Effectively encouraged me to move forward.
Combined with her extensive corporate background, Darlene's increduble ability not to only listen but to really "hear" the client creates an environment of total trust and ease. Her skills of intuition were eveident from the outset. Darlene has made a huge difference in my life. She is a true champion of her clients!
"Darlene and I connected prior to her coaching sessions while at Williams Sonoma. I felt right away that she was a person of strong intentions and guidance with a strong affection for people on her path. Once I became a client of hers at the Coaching Suite I instantly felt a support and assistance that I had needed for many years that I didn't even know it.
Through our time together over the passed six months I have become more decisive and clear in thought even through the most difficult career choices. Ultimately my goal was to stop confusion, make clear goals and identify the future that I articulate as successful. I have to say the gifts that I have received from Darlene through these sessions have been life-changing. This is the most settled and clear that I have been in my entire career and it has definitely transitioned into my personal life.
Darlene's sessions have been an asset to my continued success and my inner peace.
Top qualities: Great Results, Personable, High Integrity