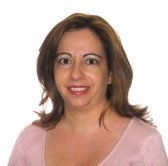 Contact Information:
514-759-5533
Visit Website
Galit Lazar
Life Coach, Performance Coach, Money and Finance Coach
Certified Professional Coach from International Coach Academy
I work with creative individuals who dare to dream big and want to get the success they want and deserve.
About Me
Galit works with creative individuals, entrepreneurs, musicians including also individuals in the media and performance arts.
Galit helps these individuals be successful in what they do by using a very fun and unique method. Life is like a movie and we create each scene of life. Galit starts taking her client in what she calls: "Behind the Scenes" where she helps the client gain awerness and discover new insights. Then she helps the client create their own "scene of life" by creating it as they want it to be. Finally comes the "editing part of the movie" where Galit helps her client refine and edit and make the movie a blockbuster success.
Galit is a Film Industry coach, an actress at heart, a published author , a speaker . Galit has undertaken the journey of discovering her true self. Through this journey she has discovered her true strengths and passions.
While taking this deep soul search journey, Galit has learned how to use the law of attraction to have what she wanted in her life. She has learned about how to have more confidence in herself and to overcome difficult life obstacles more easily, how to become self-motivated, follow her passion and spark inspiration and creativity in her life and others on a daily basis.
Galit is certified coach from the International Coach Academy and Inspired Coaching Academy. Galit also holds 2 Bachelor degrees from Concordia University In English Literature and Teaching English as a Second Language.
Galit has also recently been featured in the book: Speaking Your Truth, Courageous Stories from Inspiring Women. Her chapter is called: The Journey to Your Inner Light House. The book can be purchased on Amazon.com and she is an expert author on e-zine.com
Galit has also been nominated "editors choice" on Blogville. Her Blog: http://www.galitscampcoaching.blogspot.com is considered to be above average blog and is among the top ten blogs on Blogville. The Blog discusses amazing Life Lessons that every person must know.
Reviews
Have you worked with Galit? Tell your friends!
Working with Galit as a coach is an incredible experience. She is powerful, supportive, and intuitive in her casual friendly style of coaching. We began working on my self-confidence around working as an actor in NYC. Right away she created powerful conversations for me to really get underneath the issue. Throughout our time she provided intense homework assignments that allowed me to practice what I learned in my life. Now I experience myself as more powerful and definitely confident. Through our work together I have an interview with a legit acting agent, I have booked work on a popular cable television show, and I have transformed my relationship to money and opportunity. I would choose Galit again in a heartbeat!
When we began working together in April, I was overwhelmed and angry.
By June, I had accomplished many of the things that were important to me and my buisness. I found a way to manage all the things that I was up to in a way that was very enjoyable and I felt empowered. I started to notice all what I was accomplishing rather then what I wasn't. I gained five new clients, raised almost 2000$ for a cause that is very important to me and even expanded my responsibilities at my full time job.
As a Coach, Galit is warm, empathetic and a powerful listener. She hears between the words you say, and zones quickly into the real message behind them.
She has a very gentle but effective way of getting to the core of each challenge, and encouraging you to find within yourself the solution you feel most comfortable with.
I discovered a lot about myself and as I did, my confidence grew tremendously.
I was pleasantly surprised at how effective phone coaching was and, if you are looking for an excellent coach, I highly recommend Galit.
In my coaching journey with Galit, I have achieved more clarity in my life and what I needed to do to succeed. I learned new effective ways to attract what I wanted in my life by focusing on positive affirmations everyday.
My awareness has doubled during my coaching with Galit. I have learned how to go back in time and focus on the reasons around what is producing my limiting beliefs and how to overcome them by replacing them with positive thoughts on a consistent basis.
Galit has supported me with warmth and encouragement all through my most difficult times and I am so grateful for it. I highly recommend Galit as a coach