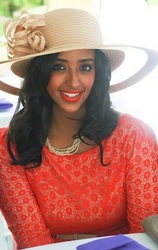 Gelila Sebhatu Arlington, Virginia
Career Coach, Business Coach, Leadership Coach
PMP, LSSBB
Frustrated with your current job? Want a different career? I coach individuals on how to better sell themselves in-person and on paper.
About Me
Gelila Sebhatu is the Owner / Head Coach of GPS Professional Coaching, which provides individuals career enhancement services (Career Transition, Resume Review, Interview Preparation, etc).
 
Most of Gelila's professional experience comes from working at Fortune 500 consulting companies and working with small international development and non-profit organizations. She's been on the other side of the table, so she knows what type of experience and traits employers are looking for. She managed teams, and a hiring manager, Gelila has interviewed 1,000+ potential candidates over her career. Her recruiting, interviewing, hiring and overall team management experience has given her amble knowledge to provide others valuable career guidance.
 
Gelila is a contributing author for InternMatch.com providing readers helpful career advice; and she was mentioned in the Washingtonian Magazine December 2013 issue for her advice on "When Is It Time to Quit a Job?"
  
Gelila has an Executive Master Business Administration (EMBA) from Virginia Polytechnic Institute and State University and a Bachelor's Degree in Business Administration, Information Systems minor in Marketing from Old Dominion University.  
Reviews
Gelila doesn't have any reviews yet.