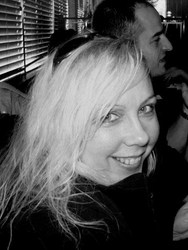 Contact Information:
Leia Gamache
Relationship Coach, Family Coach, Life Coach
BA, Certified Personal Coach
My ideal client is You... You're reaching out, seeking a deeper connection with yourself & others... commited to living your life without the dress rehearsal & willing to keep it real. Welcome...
About Me
Leia is a Certified Personal Coach and Shamanic Teacher/Practitioner.
She is published in Natural Bloom Magazine and offers more than 15 years experience mentoring in the areas of Relationship, Career, Wellness and Personal Empowerment.
A Personal Message from Leia:
"I've had many opportunities in life to be touched and transformed by some of the world's greatest teachers.
No, I have never met Gandhi or Jesus or Buddha…but have been guided by teachers who have embodied a level compassion, authenticity, integrity, and inspiration that I aspire to.
For this, I am grateful.
When I think of these teachers, I am reminded of how rich with potential we all are and how, with care and guidance…we can create great things for ourselves and each other.
We have come to a time of quickening…where the meaning in our actions matters more than ever before…where more of us are waking up to the realization that the impact we have on each other is great…for better or for worse.
Someone once asked me why I do what I do. My answer? In the words of Ralph Waldo Emerson…
'To laugh often and much;
To win the respect of intelligent people and the affection of children;
To earn the appreciation of honest critics and to endure the
betrayal of false friends;
To appreciate beauty;
To find the best in others;
To leave the world a bit better whether by a healthy child, a
garden patch or a redeemed social condition;
To know even one life has breathed easier because (I) have lived.
This is to have succeeded.'
I have had this framed on my desk for more than a decade. It reminds me of what is important…that everything is about relationship and that I am going in the right direction.
Call 403 875-7594
or Book Your Introductory
Consultation Online Today!
I'd love to meet you!"
www.whitefirecoaching.org
Reviews
Have you worked with Leia? Tell your friends!
"For anyone who is looking to grow and get the most out of your life…Leia is amazing. I went to her for something specific and she helped me to see how life is interconnected. Now I am – everyday – living the life I want… whether it is relationships, kids, work or family. Thanks Leia, you changed my life!"
"I feel so clear and focused after our last session! I just wanted to thank you. Everything felt like it was falling apart – just a month ago – and now I'm feeling like things are becoming positive again!"
"After a close friend suggested seeing Leia, I was totally blown away with how much she helped me in a very short time. She instantly revealed knowledge about what was holding me back from being happy with myself.
Leia's background is so wide-ranging that she was able to assess my problems and put me in touch with my own positive potential (which was the biggest revelation)! She made my world beautiful again and has, since, helped several of my friends who were also floundering with their life direction.
Want to see how amazing she is? Don't take my word for it. Go see her and find out for yourself!
"Thank you Leia. I learned to put a positive spin on 'the lesson' just as you did. Kudos to you! A Master Teacher and sentimental heart. My gratitude runs deep."
"I have enjoyed our sessions. They have helped me gain a deeper understanding of myself and my path, as it unfolds. Accompanied by Leia's warm sense of humour and genuine care for others, she has encouraged me to gain confidence in my own ability to understand the issues in my life.
I am most appreciative of her kind and insightful observations, as well as the gifts of vision and intuition she brings to each session."
"Leia has taught me to look inside to find my own answers to my life questions. She has a unique talent in bringing you to a place of clarity in a matter of seconds. Very gifted woman!"
"Leia has an intuitive knack for getting to the heart of issues. She holds a strong and supportive space for folks to heal."