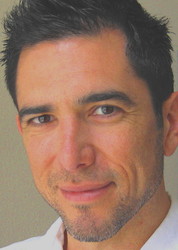 Mark Aguirre Los Angeles, California
Life Coach, Leadership Coach, Performance Coach
BA, MBA, PhD
Let's commit to completely transforming your social life. Master the psychology and the strategies for creating self love, self respect and to focus on purpose and happiness.
Details

Los Angeles, California 90045
Gender: Male
About Me
Killer Confidence coaching is not about hype and blind promises.
Don't let anybody fool you - reaching goals and improving your life takes effort. However, your effort is much harder without a caring partner at your side to guide your success with true accountability. It might be impossible for some to do it alone.
Don't you agree?
If you are committed to enhancing your personal happiness, boosting your social confidence, developing your purpose or mastering your communication and power skills ...then prove it to me. I am here. I am waiting.
This investment in yourself will be life changing. Unlike any semester at a university, THIS class schedule is designed for what truly matters. This agenda fits with the real purpose and expectations of your real life.
My promise to you:
We will begin together. We will grow together. If you are not happier, motivated and truly excited about your new endeavor, then I will gladly issue you a 100% refund of your tuition. No questions asked.
The ball is in your court. What are you going to do with it?
Reviews
Mark has 3 reviews.
"I needed this so bad. Mark's a cool coach. He listens, he pays close attention to my needs and he has helped me tremendously with my self confidence...this stuff is scary but so rewarding."

Kelly Michakovic, Glendale, CA
"I was so scared to approach ANY human being, let alone, talk to them lol, ...I must say that I waited too long to finally spend my money on educating myself on what really matters. Mark has changed my whole outlook on my social life and all the fears associated with it. I now feel totally empowered..."

Mike Gutierrez, Santa Monica, CA
"I chose to work with Mark in a LIVE setting. He is not only inspiring, but he has led me to a regular and normal dating life. Mark taught me a lot about facing fears and strengthening my inner self."

PJ Marcel, Alhambra, CA