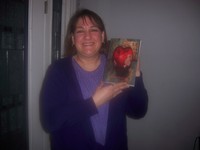 Contact Information:
Melissa Grom
Life Coach, Relationship Coach, Family Coach
MA, Graduate Certificate in Family and Marriage Studies
I coach men and women who would like to live a meaningful, fulfilling, satisfying, happy life. I empower my clients toward personal growth. I coach men and women toward healthy relationships.
About Me
Melissa began her career as a Clinical Case Manager … when she earned her Master's Degree in Clinical Professional Psychology along with a Graduate Certificate in Family and Child Studies … during which she wrote her first book, "Love Gone Wrong," Its recent release will rock the world with her personal story about surviving domestic violence. She would hope that the perception society has about domestic violence will be drastically changed, as well as, inspiring to people who are victims of domestic violence.
While Melissa found her self in the harsh and unsympathetic dating world, she soon discovered the difficulties of find the right one for her who would be worthy of her time and attention. Nonetheless, maintaining effective relationships with family and friends brought about burdensome outcomes. Like many experts who tend to say one thing and do another, Melissa was motivated by her own hypocrisy … she desired to walk her talk. Melissa was ignoring the very same powerful knowledge she was learning to help her prospective clients succeed in life and relationships. She is currently working on her second book, which she is planning for release in 2013. This second book focuses on the critical issues people struggle with in their personal lives, as well as, in maintaining effective, successful relationships.
It was not until Melissa applied her own knowledge and wisdom that she found meaning, fulfillment, satisfaction, and happiness in her life … which leads Melissa to become an effective Life and Relationship Coach. By opening up to beneficial Life and Relationship Skills, Melissa affirms that changing one's heart will result in a more meaningful, fulfilling, satisfying and happy life … in her opinion, many people need to make different positive choices in their life and relationships. She is grateful she did!!
Reviews
Have you worked with Melissa? Tell your friends!
I have known Melissa for a little over a year. I have seen the changes to her life while she was working with a Life Coach and then a Relationship Coach. When I asked her about not being the same woman I once knew she told me about Coaching. I started working with Melissa in March 2012. I enjoy working with her and she has empowered me to become the whole person I was meant to be. I would recommend Melissa to anyone who would like to become the whole person they were meant to be.
I have been working with Melissa for the past 2 months. She has empowered me to see how I can live my life happily by living through my passion. I have learned to effectively date and now I am working through some pain from previous relationships. Melissa has a gentle spirit to her and she has helped me to create the self-awareness I need to move forward in my life. I do recommend Melissa to anyone who is simply struggling in life.