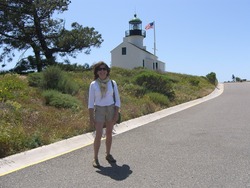 Contact Information:
Natalie Palmer
Life Coach, Relationship Coach, Career Coach
BA, Certified Life Coach, M.A. Integrative Health & Healing, B.A. Psychology, Reconnective Healing Practitioner, Reiki Practitioner
I am a Life Coach, writer and cancer survivor. I help folks affected by cancer; survivors, family members, friends as well as others interested in pursuing a life of passion and purpose. I guide and support folks as they find their path back to wholeness.
About Me
It's my belief that we all create our reality first through our thoughts, so it's vital that we monitor the quality of our thoughts. We can change our lives by changing the quality of our thoughts! This is where I can help.
Hi!
My name is Natalie Palmer. I am a Certified Life Coach with a Master's degree in Integrative Health & Healing from The Graduate Institute in Bethany CT. and a B.A. in Psychology. I am also a Reconnective Healing and Reiki Practitioner.
A little over six years ago I was diagnosed with metastatic breast cancer. Through a combination of Western medicine and holistic therapies I have been cancer free for 5 1/2 years now! I am more than a survivor...... I am a true thriver! It's from this experience, more so than from my formal education, where I've gained the wisdom, insight and intuitive ability to help others on their life journey.
My experience with a life threatening illness, along with my various training puts me in the unique position to be of service to others... to you, as you strive to live with passion and purpose. I am able to completely listen and really hear what you are saying. You will have my total attention at all times as together we clarify your true goals and desires. From there we will create a plan - your plan - for achieving the outcomes of your dreams.
It's important to know we are supported in life as we navigate along our journey. This is where I can help. I will be your biggest supporter; helping to keep you focused and positive. This isn't work... it's fun!
Reviews
Have you worked with Natalie? Tell your friends!
Natalie doesn't have any reviews yet.