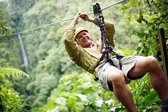 Richard Nelson Oakville, Ontario
Executive Coach, Business Coach, Entrepreneurship Coach
Founded the Company
My ideal client is an owner of a small business. You are determined or even desperate for more profit and sales. You are open and receptive to new methods, recognizing that what you are currently do is not producing the desired result. Women executi
Details

Oakville, Ontario L6L 3B7
Hourly Rate: $125.00 US Dollars
Gender: Male
About Me
I came out of university as a national class athlete and studied anatomy and exercise physiology. I have pioneered many areas - one of the first to coach female bodybuilders and imported bio synchronized exercise equipment into Canada. I am certified in NLP and blended that with accelerated learning methods to create powerful classroom trainings for business.
I have over 15 years of corporate training and am a small business growth specialist.
My work takes a process view. After many years as a sales trainer, I recognize that the very best training cannot create the results that a better process can. My customers range from 2 people start ups to 20 million in sales and more. I am willing to work within your budget, so don't let my rate be an obstacle.
Better ways of promoting, selling and producing work would make me your choice as someone who sees the issues at a high enough level to get the full picture. Then it is a matter of plotting a good game plan and execute that plan together.
I believe the things in life that matter most is how much love you have in life, your joy, your sense of purpose, your laughter, your self control and your freedom.
And that is all I have to say about myself, because from this moment on - it is all about YOU. I am fanatical about seeing you achieve.
As a coach I may be nothing you have looked for but everything that you have hoped for...
Reviews
Richard doesn't have any reviews yet.