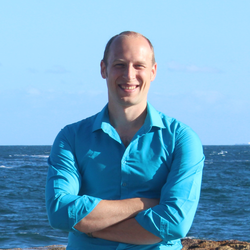 Scott Epp Sydney, New South Wales
Life Coach, Business Coach, Executive Coach
C.P.C. Certified Professional Coach, Certified Heart Life Facilitator, Global Priority Certified Values and Principles Trainer
I work with people who want a breakthrough in life and are ready to make it happen. I help people get unstuck from anything so that they can live their life purpose with passion and abundance!
Details

Sydney, New South Wales
+61 481 307 778 (Global) 0481 307 778 (Australia)
Send Message
Visit Website
Hourly Rate: $150 to $200 Australian Dollars
Gender: Male
About Me
Scott works with people who know there is something more for them in life but they're not reaching it. He works with individuals and business owners who want to reach their next levels of success. Many of Scott's clients feel stuck in some way. Scott helps you breakthrough your biggest challenges so that you can live your life purpose with passion and abundance. He is an expert helping you awakening the wild lion within you.
Scott will help you connect to their authentic amazing self so that they can live with passion and have abundance in their life! Scott has developed a process called Abundance Coaching where the foundation and soul is abundance. Having Abundance in Life is truly possible. You can achieve true abundance in every facet of your life… from the physical to the spiritual to the emotional… from relationships to finances, career and more. Everything you want in life – every facet of life – can deliver an experience of true abundance, and ultimately a LIFE OF HAPPINESS.
Scott is an expert at success coaching and his clients get results and transformations in their lives and businesses. He will push you and encourage you as you discover yourself, what matters to you and how to achieve your life goals.
Life Coaching is about having intentional, purposeful and powerful conversations that are focused on you moving forward in life. Coaching is an investment in yourself, designed to help you discover what matters the most to you, and help you on a path towards achieving your goals.
Scott is a Canadian who recently moved to Sydney Australia. He has a thriving international coaching business and he coaches many of his clients on Skype or on the phone. Scott can also meet any client locally in Sydney Australia - especially if you live near the downtown CBD, Bondi or the Eastern Suburbs.
Email or visit Scott' website: www.abundancecoaching.com/free-session to book a Free 45 minute Life Purpose Plan Session!
Live with Passion and Have Abundance in Life!
Reviews
Scott has 10 reviews.
"My goal with coaching with Scott was to find some purpose and direction in my life. To gain a better understanding of my core values and what I stand for and to figure out where I had lost myself along the way. Also to be able to look to a future career change and find out what that may be. Pretty much all of these goals have been achieved. Scott's demeanor and positive, compassionate attitude are paramount in our sessions. He provides a transparency that allows you to open up to him and know that everything is in love and trust. Also you know that he wants what is best for you, and therefore his questioning digs in so that you can't just give a superficial answer, but rather more probing into your inner being."

Monty - Business Owner, Saskatoon, Canada
"What I most appreciate about Scott's style of coaching is the great energy that he brings to every session and the powerful ways he acknowledges me. These qualities were especially important for me in that we were working on some self-doubt that I was carrying around. Not only did he ask thought provoking questions, but he also had a great way of letting me know that it was alright to feel that way, and then went on to build me up with acknowledgements of the things I had done well throughout the process."

Kim - Personal Coach - New York, United States
"I guess my only goal at the start was to investigate 'life coaching' as a means of gaining some clarity into how I could be more of the person I wanted to be, to be more effective in my life and business.The questions I had been asked in Scott's welcome letter had me thinking about unrealized goals and dreams, being stuck in a cycle, and achieving more. Scott, I've really enjoyed your authenticity, your humor, and your positive outlook toward moving forward through the challenges in life. You are insightful, a good listener, and sensitive with your thoughts, feedback, and suggestions. You obviously enjoy the process of being coached yourself, and are moving forward in your own personal growth. This is encouraging to me and validates the process, as I feel I am journeying with someone who is keen to learn, rather than just being handed a bunch of quick fix answers or suggestions."

Joel - Business Owner, Sydney, Australia
"Scott Epp is an excellent coach! He is understanding and empathetic to say the least. Right from the beginning of our coaching Scott quickly created a trusting space for me to feel safe in. It was something to do with his energy and the way he was being with me that made me feel like what I was going through mattered to him and that he had my best interests in mind. He helped me a lot by being a partner in accountability for me. I felt that Scott's ability to hold me accountable to the things that I said I would do in between our sessions was invaluable to me. He knew exactly how much to push me to get me out of my comfort zone, and when to take it easy on me. I feel that Scott was able to develop trust and report with me early in our relationship which allowed him to have a more intuitive knowing of how I needed to be coached."

Clay - Personal Coach, Toronto, Canada
"Scott is an optimistic, enthusiastic, empathetic coach who listens with all his heart. Going through the coaching sessions I had two traumatic family situations happen. Scott put aside his agenda to control the session by showing concern for me as a friend and not just a client. Scott is able to blend his professionalism, supportive nature and values into each session."

CeCe - Passion Coach, Seattle, United States
"Scott has effectively extracted from my being what my underlying values are which I seedrive who I am and my behaviors. While we are not finished I am really encouraged by these initial steps. For the next phase in this process I would like to see my goals refined, formatted into SMART goals and initial accountabilities placed upon me to take the beginning steps in achieving them.Scott, keep up the good work, I am encouraged by this coaching process.I have had a number of athletic coaches in my swimming career and I performed my best under the coaches that were demanding."

Rob - Business Owner, Sydney, Australia
"Scott is a great coach who I would have no hesitation recommending. He was organized, made the meetings on time, and gave great notes of the session afterwards.Scott was amazing at pinpointing things, and was unafraid to ask me difficult questions (usually after he had asked for my permission to do so!). Our sessions were challenging and thought provoking, and I always looked forward to the next one! The sessions were very helpful, and Scott's support in getting me through my decision making process was invaluable."

Russell - Lead Pastor, Victoria, Canada
"Scott is a wonderfully warm human being who is sensitive to a person's values, beliefs and nature. He creates with ease a safe and trusting environment where he helps you explore, without fear, possibilities in an enthusiastic way which allows you to see things in a different light. In only one session, Scott orchestrated a paradigm shift within me enabling me to progress past a stumbling block in my life. Scott will assist you in finding your own answers, guiding you to find solutions. I do not hesitate to recommend Scott."

Lauretta - Mom and Grandmother, Calgary, Canada
"My desire is to live each day with the foundation of my core values – whether decisions are important or trivial. I want to be an authentic person. Knowledge of my core values with help me do the self-evaluation that will move me to that goal. I am attempting to review and work with my core values on a daily basis. Today when I was cut off in traffic I reacted to the other driver. After I reacted I sensed the question, "Dave, how does your reaction line up with your core value of grace?" Good question. I found Scott easy to talk with and knew that he cared that the process be helpful to me as we went through it and as I moved forward with the information."

Dave - Realtor, Saskatoon, Canada
I came to Scott for Coaching because I wanted to change some of my behaviors and get a different point of view about my situation and how to deal with my everyday life and find different ways of dealing with my friends, family members, and other people. As a result of getting coaching from Scott I have become aware of these patterns and to some extent I understand why these patterns have developed; I believe that I can go on to changing some of these patterns into new patterns. Scott was never judgemental, he respected my opinions and listened and responded to what I said. The subjects that had a direct bearing on my life or happiness or lack thereof were also discussed in such a way that I could see a different perspective or a new way of thinking about or dealing with my relationships with other people (and myself). Scott always seemed to be in high spirits, and he has a positive attitude in speaking of his own family which I found encouraging. I believe other people could gain something from coaching with Scott in terms of setting goals, changing old habits, relating to other people.

Lynne - Business Cleaner, Saskatoon, Canada