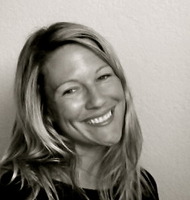 Contact Information:
Traci Wallace
Business Coach, Life Coach, Entrepreneurship Coach
I choose health, happiness, prosperity and well-being in all aspects of my life (personal, business, relationships), and I and look forward to empowering you to do the same.
About Me
Traci Wallace is a New York born Californian and former New Delhi resident who is passionate about living an amazing life and empowering others to do the same. She is the co-founder of Live Weal, a management company connecting business with conscious culture, a traveler, published writer, Elephant Journal Columnist, successful blogger with over 20,000 followers throughout the world, Executive Coach, Yoga Teacher, Professional Start-up Consultant who has worked with clients in the U.S. India and Latin America.
Traci has over 10 years of professional experience in the areas of Corporate Communications, Marketing, Corporate Identity, Public Relations, Internal Employee Relations, Trade Program Development & Execution (Market Size: $500M), Strategic Planning, and International/Domestic Business Development including the successful launch of Callaway Golf into India in 2010. She has planned and executed hundreds of events throughout the U.S. and India, partnering with such companies as Callaway Golf, American Express, Audi, BMW, Kingfisher and GE Capital.
Appointments are available in 30-minute increments and can be in person (if available), via phone or Skype.
Reviews
Have you worked with Traci? Tell your friends!
After my initial meeting with Traci I immediately felt empowered, positive, and just as energetic as she was. Her zest for life and true belief that your life can be what you want it to be is contagious. She doesn't tell you what to do, nor does she give advice, she knows you have the answers within yourself and she helps you discover those answers simply by asking specific questions. She really has a natural ability to help you change your life for the better if you're willing!
Traci has the gift of connecting to her clients – immediately. As a life coach she listens to her clients, listens for possibilities, goals, dreams and aspirations. She coaches her clients to discover, harness and expand on the strengths and tools that we have within in us. She creates a sacred and inspiring space that enables openness and truth. She helps clients create a satisfying and fulfilling life and guides them to their fullest potential and true self.
Supporting people to realise what makes them happy, is not something everyone can do. Traci is a unique individual with excellent listening skills. Having known her both personally and professionally, I can say that she is very dedicated to what she does. During our conversations she really helped me focus on what I really wanted to achieve in my life and how I can work towards those goals by eliminating the unnecessary uncertainties. Our discussions really helped me clear my mind of the doubts about myself and have allowed me to finally feel happy and confident in the decisions I was taking.
After meeting with Traci the first time I found myself more balanced, positive and excited about what was to come in life. Coming from a place of heartache and feeling of misdirection I now continue to uncover the path that I am truly meant for. Traci has helped me really tune in to my real self and encouraged me to do so through my passions for the ocean, yoga, meditation and writing. She provides me the inspiration and support I need to manifest what I want and love in my life. Thank you Traci for the continuing guidance and wisdom, I am eternally grateful!
Traci exhibited strong leadership and management skills throughout my time working with her. Her attention to detail and consistent follow-up set the tone for a results oriented work environment, while maintaining a positive attitude. It was an absolute pleasure working with Traci. I would highly recommend her as a manager, coach or role model. I wish her nothing but the best!
Traci possesses a singular spirit of adaptability; when confronted with nearly any obstacle, she finds a way to not only survive, but prosper. Her willingness to accept risk for a worthwhile goal is admirable and one found in short supply. The journey truly is part of the goal with Traci; the attitude she brings inspires others.
Traci has an incredible energy and love of life that is contagious. Her coaching has helped me in more ways than I could have imagined. She has had the ability to make me realize my strengths, giving me the confidence to conquer my dreams. She has provided a roadmap to reach my goals and holds me accountable to the daily steps it takes to get there. Traci has helped me make my passion a reality... and to find my voice in the (beautiful) process.