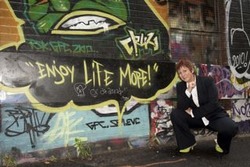 Trish Stenson Toronto, Ontario
Executive Coach, Leadership Coach, Relationship Coach
BA, MSW, RSW, CEC www.trishstenson.com
Looking for people who are successful but still aren't satisfied. People who understand that creating "stretch goals" and achieving them is a pathway to a bigger, more fulfilling and highly effective life. If you believe that success is the beginning of
Details

Toronto, Ontario M4L 2W4
Hourly Rate: $$250 Canadian Dollars
Gender: Female
About Me
My resume will show that I have lots of experience to bring to our coaching partnership. These skills are important but the most important skill, I believe I bring to our relationship, is my ability to truly listen.
I have honed this skill over many years in my role as a psychotherapist. It allows me to hear what you're saying but more importantly, it allows me to hear between the words and ask the questions that allow you to discover new and different solutions to problem solving, relationship building, leadership growth and critical thinking skills.
I currently work with clients in Europe, Canada and the US. Technological advances, such as skype, offer an important solution to coaching from a distance. My office is located in downtown Toronto and of course telephonic coaching is always an option.
I am your thought partner, your sober second question and your sounding board and I would love to bring all of my experience to a coaching relationship with you.
Reviews
Trish has 7 reviews.
"While initially unsure how phone based coaching could be impactful, roughly 3 sessions into it, I began to understand the impact. Undergoing coaching helped me sort out some personal and professional decisions that I had been putting off dealing with. I have since gained a much clearer personal and professional direction."

James USA
My experience with Trish was a very productive and enjoyable introduction to coaching. I found her style to be supportive, smart and funny, and always looked forward to our meetings. She challenged me to think about my leadership style in new ways, and engaged with both the big ideas and the practical realities of the change processes I was exploring. She helped me to articulate my vision for future career direction, and to identify what I need to accomplish in order to get there. I look forward to working with her again, as I approach the milestones and major crossroads ahead. I have no doubt that I will be successful at achieving my goals with Trish in my corner.

Jennifer-Canada
Trish has the rare gift of the perfect balance between practicality and magic. She makes the journey between where I am and where I want to be challenging fun and always full of surprises.

Gus - visual artist, B.C.
" Coaching with Trish has given me the renewed commitment to my career and executing it on my terms. Clearing out" the stuff" that has been holding me back and moving forward into a new and exciting space that better supports what I need and want. The result,renewed creativity, energy and future focus. Looking forward to the next phase of my career and creativity !"

Penny singer songwriter BC, Canada
Trish has helped me to finally see the possibilities that lie in front of me and how simple it really is to start reaching my potential, once the self defeating voice in my head has been quieted. Instead of spinning my wheels by continuing to dream, I now have Trish alongside me, pushing me into action and encouraging me to begin taking the necessary steps that will lead me to my goals.

I am extremely happy with the process thus far - I feel happy and optimistic about what the future will bring.

Dana –Alberta, Canada
"Trish brings her experience in business, counselling and in life to the coaching process. She creatively challenged me and, as a result, I have better clarity. Trish's warmth, persistence and insight created a productive and enjoyable experience."

Account/Relationship Manager –Ontario, Canad
"one of the strengths of having a coach is actually not letting people know you have one. You let the results speak for themselves."

International Political & Strategic Risk Advisor, Europe/Canada