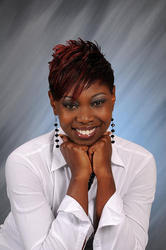 Contact Information:
Ursula Evans
Relationship Coach, Business Coach, Life Coach
I currently work with single women and couples to grow individually and/or collectively. I work with business' who are struggling and need help with implementing their business or marketing plan.
About Me
Ursula Evans is a Certified Professional Life Coach specializing in Relationships, CEO of SEE YOURSELF, Freelance Writer, Author, Mentor, Inspirational Speaker and Blogger. Ursula has an immeasurable passion for people and her purpose is to inspire and empower people to be the best they can be by encouraging and motivating them into their destiny. She has overcome tremendous personal adversity which enables her to inspire and positively shape the lives of others. Her freedom and liberty from these adversities came through her positive outlook, spiritual foundation, transparency, accountability partners, and taking an honest look within herself. She focuses on where you are presently and where you are headed, with a goal of helping you gain clarity about your relationship, business or life, eliminate obstacles to your success, and accelerate the pace of growth. Coaching with Ursula is forward focused. You may discuss something that has occurred in the past, for the purpose of clarifying the present, but your coaching will not focus on resolving the past. Coaching is conducted 2-3 times a month over the phone. Sessions are between 30 minutes and an hour. Together, we schedule appointments to suit your needs. You choose what you want to work on and you lead the call. This is your life, your business—and your valuable time. As your coach, I will ask questions, make requests, and challenge you to reach your goals. Coaching with me is honest, challenging, loving, and deeply spiritual. E-mail and audio support is also available between sessions.
Reviews
Have you worked with Ursula? Tell your friends!
Before having my coaching session with Ursula I was in such fear of failure. I feared stepping out and taking a risk on things that I knew God wanted me to do, because of failure. It was a mental battle within myself. Now after my coaching session with her I feel so much more secure that I can do what I know I'm called to do. I have a daily saying that remind me who I am and what I can do with HIM! I now know that the fear is not going to hold me back when I take little steps to reaching my goal. I see each step getting me closer to my dream and I thank Ursula for the confidence I had lost somewhere along the way. Thank you so Much! You're a blessing!!