Posted on November 19, 2011 by Kathryn Hawkins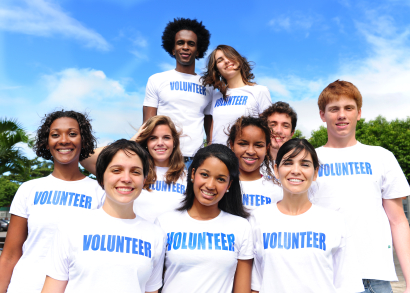 You want to make an impact on the world around you by volunteering, but, between juggling work and family obligations, it's impossible to find the time to commit to helping out a local nonprofit organization. No problem: Here are some simple, yet effective, volunteering ideas that you can do in 30 minutes or less.
1. Seek out virtual volunteering opportunities
Commuting is a big part of the time commitment involved in traditional volunteer efforts, so look for ways to get involved that don't rely on your physical presence. Run a "virtual opportunities" search on VolunteerMatch.org to find opportunities in writing, design, data entry, and other telecommuting volunteer positions.
2. Microvolunteer on Sparked.com
Sparked.com is centered around "microvolunteering" opportunities that you can do in the space of just a few minutes from your home computer or even your cell phone. Opportunities include providing feedback on website designs, coming up with tagline suggestions, or proofreading a document.
3. Volunteer for donation pick-up duty
Nonprofits such as the Ronald McDonald House and local soup kitchens are often seeking volunteers who can pick up donations from nearby establishments. Schedules are flexible, and the tasks should be quick to perform.
4. Pick up litter
You don't need to work with a non-profit for this one: By simply taking some trash bags to a nearby park or neighborhood, you can help your town and beautify your community in just a few minutes. For maximum impact, ask a group of your friends to help with your cleanup mission.
Next time you're shopping at a discount store, take a look through the toy section to come up with an assortment of toys such as crayons and stickers, and purchase a birthday bag to put them in. On your way home, drop the birthday bag off at a nearby homeless shelter, where it will be presented as a birthday present to an impoverished child.
6. Become a virtual mentor
Want to help disadvantaged kids get a head start? Organizations like I Could Begive you the opportunity to help children using only your Internet connection: Each site will provide you with the online training and resources necessary to help your mentee move forward with his or her goals, with a minimal time commitment.
7. Write letters of encouragement to sick children
By becoming a Card Angel for Chemo Angels, you can write short letters or postcards to children who are undergoing chemotherapy treatments for cancer. If you don't mind a slightly larger financial obligation, you can sign up as a Chemo Angel and send small gifts, such as a favorite book or scented lotion, to a sick child.
8. Walk dogs
If you love dogs, volunteering as a dog-walker is a great way to help out an animal while getting your daily dose of exercise in at the same time. Check in with a nearby animal shelter to talk about dog-walking opportunities—you may have to undergo a short training session, but will otherwise be able to drop in according to your own schedule. If you have an elderly or injured neighbor, you might also inquire whether her pup could use a little time outdoors.
Got any other volunteer ideas that can be done in less than 30 minutes a day? Please add them in the comments.