Posted on November 8, 2012 by Stephan Wiedner
It was brought to my attention today that some coaches choose to email potential clients even when they are given the client's phone number. And then when they don't get a response, they think "Oh well, that client was just a window shopper. They weren't serious." Or some other excuse.
Where's the hustle?!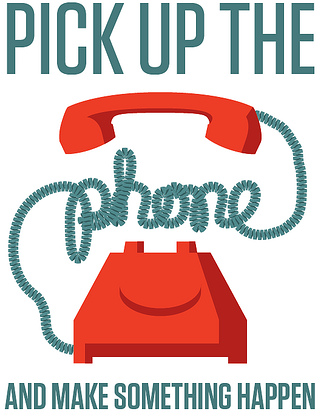 A lot of potential coaching clients are coming to coaching because they are stuck somewhere between being a super, kick-butt, fiercely independent self-starter and a depressed Homer Simpson.
They need a little shepherding! They are easily distracted, procrastinate, are floating in life with no direction, and dealing with an overabundance of stimulation and information. They haven't experienced coaching yet to know how beneficial it will be.
As the coach and astute business person, you need to follow-up diligently, and gosh darn it, pick up the phone. But don't be annoying like Mikey from Swingers.
Here are the principles that we have refined and developed at Noomii to follow-up with potential coaching clients as soon as the lead is received.
Step 1. Call the client ASAP – This is the highest priority. Speed matters. The sooner you get to the client the better. Don't wait 24 hours. Don't wait 1 hour. Do it now. Research conducted by the ICF demonstrates that clients are most likely to hire the first coach they talk to.
Step 2. Schedule a call –  If the call is going to take more than 3 minutes, schedule another time to talk. It shows respect for both your time and the client's time. They will be impressed.
Step 3. Leave a VM – If you don't get through on the phone, leave a brief voicemail (vm) and a call-back number.
Make sure when you're leaving a VM leave your FULL NAME!!! People do their research, and a full name might trigger their memory (oh right, Jane Smith the coach, not Jane some random caller). Also, leave your phone number twice. Say it loud, clear, and slowly so people can write down the number without having to listen to the recording 19 hundred times.
Step 4. Follow-up with an email – Only after leaving a VM should you follow-up with a quick email asking the best time to get in touch. Don't assume that your email got through. It can easily get lost between 100s of other emails or caught by junk or spam filters.
Step 5. Call again in 24 hours – Assuming you WON'T hear back from the client (remember, they are distracted, procrastinating, or busy doing a 100 other things), make a note in your calendar to follow-up with the client again in 24 hours.
Step 6. Call again after 7 days, 14 days, 2 months – If you still haven't heard back from the client within 24 hours, try calling again after 7 days, 14 days, and then again at 2 months. Don't call multiple times in a day because most people have call display and don't want to be annoyed by someone who calls too often.
Between all the different calendaring systems, CRMs, and scheduling tools, you should easily be able to create reminders to follow-up. Personally, I create events in my calendar to follow-up and also use Boomerang, a nice little extension on GMail that kicks emails back into my inbox when I don't get a reply after x number of days/weeks/months.
Step 7. Do the call and follow-up again –  If you manage to consult with a potential client on the phone (or in person), either ask for their business (yay!) or ask for their permission to follow-up. I've followed-up with clients 6 months later in some cases because they weren't ready now. They appreciated that I actually called back. It shows an extra level of professionalism and care.
Just because they don't hire you right now, doesn't mean they won't some time in the future.
What follow-up steps do you take? What works for you? Please share your tips and tricks in the comments below.