Posted on August 27, 2013 by Stephan Wiedner
Do you ever ask yourself what your life purpose is? You're not alone. Every day, we get coach requests from people who say things like:
"I want to be doing what fulfills me and is my life's purpose"
"I want to live life more purposefully"
"I want to discover what my purpose is so I can find the right career direction"
While many people spend a lifetime trying to figure out what their life purpose is, Adam Leipzig, a former Disney executive, offers a simple solution in his TEDx Talk called "How to Know Your Life Purpose in 5 Minutes."
Why Leipzig's Life Purpose Formula is Un-Self-Help Worthy
As a self-help junkie, I know the allure and danger of introspection. I support the idea of examining your thoughts, feelings, and motivation but at some point in time, you gotta get out of your own head and the best way to do that is to become other-focused.
And that's exactly what Leipzig suggests. By examining the happiest of his colleagues, he theorizes that their life purpose is tied to serving others, which is consistent with the Un-Self-Help core principle #3: Other people matter.
So, if you want to get clearer on your life purpose, here's what you need to do next:
1. Watch the TEDx Talk below
Another interesting point is that you can define what you do by asking yourself "What are you supremely qualified to teach others?" Maybe Cal Newport is right that skill trumps passion.
2. Download, print and fill out the life purpose worksheet below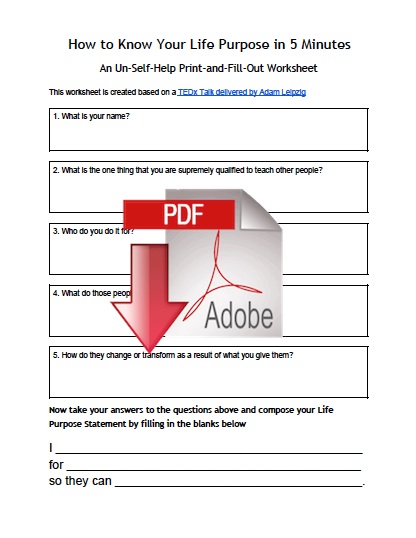 Still need help discovering your life purpose?
If you still have questions, please leave a comment below or consider hiring one of Noomii's life coaches.