Posted on September 10, 2013 by Leah Mazzola
The inner critic, it turns out, has about the same amount of power as the sniveling, whiny Joker after being captured and put behind bars by Batman. It's actually a pretty benevolent faculty of mind at its core, but when misinterpreted it can quickly morph into a confidence-sapping, villainous tyrant. And no one wants one of those in their house, not to mention the limited expanse of space between their ears.
It's all in the handling, psychologists are telling us. But there's an important caveat: we must first arm ourselves with the right tools for the job. We do this by understanding what we're dealing with and, to do this, we need to isolate and identify the entity's triggers and patterns. Then, we can expose it, bring it to book and move on with our lives. It's not too unlike a typical episode of CSI in that regard.
So, if we are to end the self-inflicted reigns of terror going on in our heads (most of us will concede to harbouring at least some shade of an inner nag) we must begin with a microscope.
What is the inner critic?
The inner critic is an automatic critical thinking process that continuously evaluates how our actions mirror our values, thoughts, and beliefs. It then draws inferences for learning and survival. We all have it.
It doesn't have to function as a flame-eyed villain lurking around the murky recesses of our cognitive landscape. It becomes maladaptive only when we begin to use its negative judgments against the self, become hypercritical, or hold ourselves to unworkable and impractical standards.
We all have an inner critic, but not all of us let it run riot.
On a rudimentary level we can acknowledge the inner critic for its powers of observance, evaluation and discernment. These are positive functions and necessary tools for our survival. At its root the inner critic is an analyst, capable of noticing, perceiving and interpreting information that can be used so that we may beneficially adjust our actions for future significance. In this way the inner critic helps us to learn which actions are dangerous and which are safe.
Consider the following micro anecdote: I made a hasty investment. It didn't pay off. I should probably do my research the next time.
To understand how the inner critic handles a situation such as the above, it is helpful to understand its three-tiered system:
Action
Observance
Adjustment.
The action (hasty investment) observation (lost money) and adjustment (will do more research in future) process is the inner critic's entire task, which is complete at this point. It has done its job and that is to reduce the risk of financial loss for the next time.
At a more sophisticated level the inner critic offers tools for greater well-being.
Let's say, for example, you notice that when you dwell on past mistakes (action) you begin to feel down (observation). It might be a good idea, you think, to learn to acknowledge your mistakes, find the lesson and apply it moving forward (adjustment).
When it turns nasty: how to spot an over active inner critic
Besides its furling talons and curlicued whiskers, the unfettered inner-critic is easy to spot. It leaves a stench of low morale and general bad feelings. The gloom it leaves in its wake is brought about by a combination of negative self-talk, negative self-concept, low self-esteem, excessive feelings of guilt or shame, an inability to forgive the self, or perfectionist tendencies.
What's its poison?
An inner critic on a caffeine-high has many blind spots. Here is one practice you can incorporate to overthrow the unwelcome blasphemer in your inner church.
Acceptance and Commitment Therapy (ACT)
ACT is a mindfulness-based and values-driven behaviour therapy. At the bedrock of this approach is an attitude of acceptance over that which you have no control (e.g., your thoughts and emotions will be annoying at times), coupled with a commitment to act in a way that improves and enriches your life.
Mindfulness and defusion (which is the act of putting space between the self and negative thoughts and feelings) are the active techniques espoused by ACT.
Its core strategy is to employ mindfulness. The automatic, spontaneous nature of the inner critic means it can exist without our attention. But if we become attentive we can determine whether it is working for or against us.
It's useful to think of the inner critic and mindfulness as tools in a toolkit. A tool must be well maintained to function when needed. All tools serve a purpose, but without a professional who knows how to use the tool, it is ultimately redundant. We must become familiar with our stash of inner tools so we can know when to use them and when to put them away.
If a doctor were to hold a stethoscope in one hand while attempting to carry out all daily duties the tool would become cumbersome, and get in the way of efficiency. It would likely cause more harm than good for both the doctor and patients.
ACT Step 1: Stop and notice
Ask yourself the following four questions and write your answers down (Please note that you can download a printable version of this exercise down below. It's a free.):
What kinds of things do you tend to say to yourself when you are unhappy with your result or actions in a situation? Examples: "I can't believe I did that", "What is wrong with me!?", "That was not very bright", "Why am I so dumb!?" "Why can't I just get it right!?"
Is there a particular scenario that you tend to have more difficulty with or be harder on yourself around (e.g., school, work, or relationships)? Example: I notice I lose my temper easily when I'm stressed and then become really hard on myself which tends to put me in a funk.
What kind of feeling is associated with becoming hard on yourself? Example: Shame, guilt, anger, sadness.
How do those feelings affect you? Example: I don't really want to be around people. I don't trust myself not to react the wrong way when I'm stressed out so I get really nervous and anxious when I have to deal with other people which just stresses me out more.
It is important to realize that making judgments about your actions is necessary and feeling bad about actions you're not proud of just means you're human and you have a conscience. Negative judgments and bad feelings become problematic only when they create interference with your functioning to the degree that living life, performing and interacting becomes difficult.
ACT Step 2: The inner critic makeover
It is imperative to create space between you and your inner critic so you can move away from the negative thought patterns and subsequent bad feelings created by it. Otherwise, we can become attached to its irrational thought processes and eventually identify with them.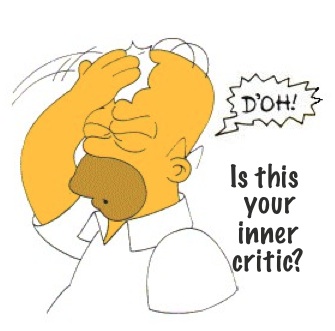 A simple method is to create an entity around your inner critic to symbolize the tool that it is, allowing you to recognize it when it shows up, determine if it's helpful or not, and then decide what to do with it.
Using your answers to questions 1 and 3, create an entity to suit. Give your inner critic a name, a colour; dress it. Why not create a funny cartoon character with a big nose and small mouth? Does it have bad breath? Floppy ears? Think about size, and remember: small is good, tiny is better. This is an entity you intend to tame.
In question 2 you identified some situational and emotional triggers to alert you to the presence of your inner critic. And now that you have it nicely packaged and named you can choose what to do with it when it starts to cheep and chatter.
Ask yourself if its presence is helpful? Why is it or why is it not? Do you want to check the information it brings, then send it on its way? Each time it appears the appropriate action will be different depending on the situation.
The point is awareness and limiting the havoc your inner critic can wreck on your well-being through conscious healthy use.
Download and print the inner critic makeover worksheet
The benefits of taking charge of your inner critic
A rowdy inner critic can trounce our self-concept, which is defined in psychological terms as the mental representation of the views and beliefs we have about ourselves. Self-perception of our own behaviour and introspection play a large part in self-concept development. A healthy self-concept is vital because it directly affects self-esteem and self-worth. So, what you think of you matters so much more than what someone else thinks of you because, after all, you are with you always.
Think about the following: you can walk away from or choose not to associate with another person who tries to knock you down. You're stuck with yourself – that's why reigning in your inner critic is a first step in bolstering self-esteem, confidence, and performance.
Think of your inner critic as a force that pushes against you as you try to go about your day. It grows more powerful the more it goes unchecked. Taming it by checking it, accepting it as part of you, and deciding where it's useful and where it's not sucks that overpowering force right out of it, freeing up energy to go where you need it most.
References
Blatt, S. J. (1974). Levels of object representation in anaclitic and introjective depression. Psychoanalytic Study of the Child, 29, 107–157.
Chang, E. C. (2008). Self-criticism and self-enhancement: Theory, research and clinical implications. Washington, DC: American Psychological Association. doi:10.1037/11624–000
Fiske, S. T. (2012). Social beings: Core motives in social psychology (2nd ed.). Hoboken, NJ: Wiley.
Gilbert, P., & Irons, C. (2005). Focused therapies and compassionate mind training for shame and self-attacking. In P. Gilbert (Ed.), Compassion: Conceptualizations, research and use in psychotherapy (pp. 263–325). New York, NY: Routledge.
Kannad, D. & Levitt, H. M. (2013). A review of client self-criticism in psychotherapy. Journal of Psychotherapy Integration, 23(2), 166-178. Doi:10.1037/a0032355
Kashdan, T. B., & Ciarrochi, J. (2013). Mindfulness, acceptance, and positive psychology: The seven foundations of well-being. Oakland, CA: New Harbinger Publications
Kenrick, D. T., Neuberg, S. L. & Cialdini, R. B. (2010). Social psychology: Goals in interaction (5th ed.). Boston: Pearson.
Shahar, G. (2001). Shame, personality, and the breakdown of social ties: The voice of quantitative depression research. Psychiatry: Interpersonal and Biological Processes, 64, 228–239.
Whelton, W. J., & Greenberg, L. S. (2005). Emotion in self-criticism. Personality and Individual Differences, 38, 1583–1595. doi:10.1016/j.paid.2004 .09.024