Posted on October 3, 2013 by Laura McGrath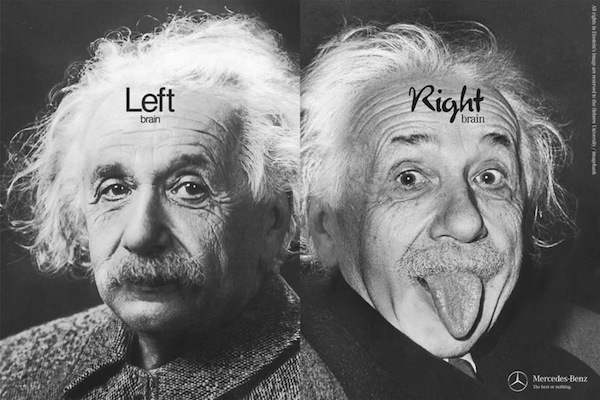 Can creativity and productivity go hand-in-hand?
If you're a self-defined "creative", perhaps you despair of ever finding a productivity rhythm that honors your inner artist. But in this article, you'll learn how to use your creativity tools to enhance your productivity.
The logical brain versus the creative brain
Many of us are used to thinking about ourselves as if we have two different brains that do two different things: a left brain that's logical and rational and orderly, and a right brain that's creative and artistic and fluid.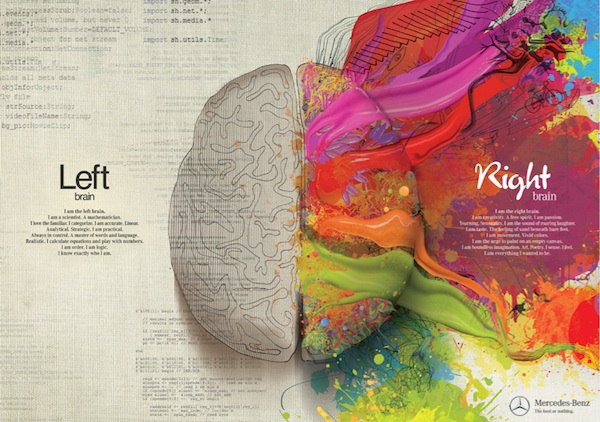 For a stunning description of these two parts of the brain working independently, check out Jill Bolte Taylor's fascinating TED talk. Bolte Taylor is a neuroscientist who experienced a stroke in the left hemisphere of her brain, and she gives an incredible account of swinging between her rational, logical left brain hemisphere when it was functioning, and back to her creative, blissful, infinite sense when her left hemisphere went "offline" and she found herself swimming in her right hemisphere.
Now, we might assume that it's the logical left brain that has all the expertise on productivity, but that's not always the case! In fact, both brain hemispheres contribute to all brain processes, and no one is truly solely "right-brained" or "left-brained". So rather than defining ourselves as a logical person or a creative person, why not make the most of all of our brain resources?
If you already know that you draw energy and inspiration from your creative side, then a creative version of productivity might be just the thing to keep you on track and inspired.
Here are five ways you can draw on your creative tools to get a surge of productivity:
1. Get a Green Infusion
Lost in your process, projects swirling around? Grab your water bottle, a pen, and your notebook, and re-orient yourself from a green space.
A 2008 research report from the University of Michigan outlines The Cognitive Benefits of Interacting with Nature. Enjoying and just letting ourselves "be" in nature gives our "directed-attention mechanisms" a chance to take a break and recharge. When we get back to work, we're ready to direct our attention again and be more productive!
A more recent study followed participants who were immersed in nature for four days, and found that participants subsequently experienced a drastic increase in performance on a creative problem-solving task. So if your wheels are spinning, get out from behind your desk, relax in a green space, and let your creative problem-solving skills rise to the surface.
2. Create an Inspiration Station
Stay on track with your projects by connecting with what inspires you.
Danielle Laporte writes about the 11 productivity tips that creative types already know. We love the suggestion to create an inspiration box of stuff that you love.
For all those times when your to-do list is daunting and you can't access your creative spark, wouldn't it be great to be able to reach into a box and pull out something that inspires you, connects you to what's meaningful, gets your juices going, and prompts you to approach your work from a new perspective?
3. Dance to Your Drum Beat
Do your work your way.
At a conference and tired of typing on your laptop or tweeting your insights? Re-engage by trying visual note-taking.
Do you love to draw but hate to write a business plan? No problem! Scrap the 200-page text document and sketch your business plan out using crayons and a notepad. (Check out Noomii coach Cynthia Gunsinger's inspired Creating Spaces program – a way for creative types to create a business plan that doesn't suck, and that doesn't suck the life out of them!)
Don't be afraid to go against the grain – maybe your most counter-intuitive idea is exactly what you need to get creative and productive. And if you can't get counter-intuitive on your own, check out 10 Counter-Intuitive Ways to Increase Productivity Without a Productivity App – from sitting on the toilet to finding a slow routine, you'll find something there to surprise you.
4. Work When You Want to Work
You'll be more productive if you work with your natural rhythm. Pay attention to both WHEN you want to work and be creative, and what types of tasks and projects you what to take on when.
Earlier this year, the Globe and Mail article Ten ways to increase employee productivity listed the productivity tips used by MetaLab Design, which has decided not to force folks to be either early birds or night owls, but to accept them for who they are. "Our team is free to come in when they feel most creative," founder Andrew Wilkinson says, "and after five years [this policy] is yet to be abused."
If you know when your best work rhythms and creative rhythms are, use that knowledge to your advantage instead of trying to stuff yourself into a schedule that goes against your natural tendencies.
5. Take Breaks and Fill Space with Creative Time
You are more than your productivity.
Getting stuff done is important, but you can't do it 24/7 – nor would that lead to happiness and fulfillment. Make sure you take breaks, and that whatever productivity techniques you're using you're still building in creative time and inspiration time. (The Pomodoro Technique, for example, ensures that short, scheduled breaks are always built into your routine.)
Not sure what to do when you're not getting stuff done?
Recharge by taking on a volunteer project that allows you to see the world through someone else's eyes. Pick up a hobby you enjoy. Immerse yourself in the creativity of others, whether it's in your field or not. Connect with someone. Try something new.
Whether or not you call yourself creative, creative bursts in your day will refuel you, inspire you, and even boost your productivity when you get back to your desk. Don't shut your creative side down! Spend time in green space, create an inspiration station, do your work your way, follow your natural rhythms, and remember to take breaks that inspire you. You'll be amazed at what you can get done.
Have your own tips for combining creativity and productivity? We'd love to hear from you in the comments!
*****
Noomii.com has thousands of life and business coaches, many of whom specialize in working with creative types. Whether you live in San Diego, Minneapolis, or Orlando (or anywhere in between) we can find the right life coach for you based on your individual goals and personality.