Posted on March 18, 2015 by Stephan Wiedner
In the past week, we have been contacted by at least three coaches who got a curious email from someone at MajorMediaNow.com. The email they are getting looks like this: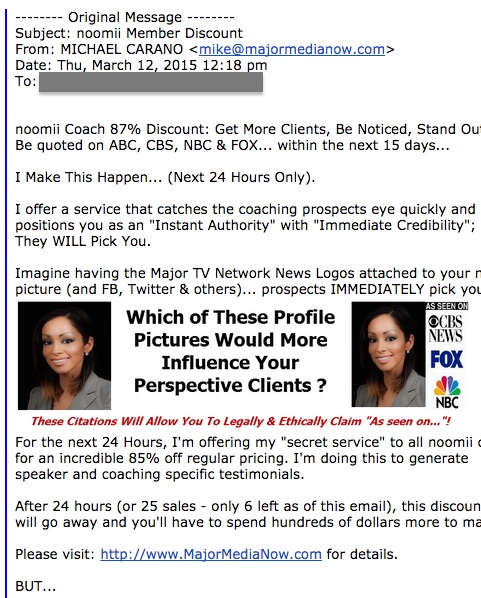 If you've received one of these message you might be wondering a) how they got your contact information, b) if it's a scam or c) if they are affiliated with us. Here's what we have to say about that:
We did not give away or sell your contact information. If you received one of these emails, they would have found your email address through a clever Internet search. 
We do not know if the service MajorMediaNow offers is credible. Please proceed with caution.
Noomii is NOT affiliated with MajorMediaNow. They are clearly using the Noomii name to get your attention but it is without our permission and against our terms of service. We have asked them to stop and will pursue legal action if it persists. 
If you have received one of these emails, please let us know in the comments below.
Proceed with caution.
UPDATE Mar 19, 2015
MajorMediaNow responded to my email and has agreed to stop sending emails. If the problem persists, please forward emails to support@noomii.com. 
Thanks,
Stephan Wiedner and the Noomii Team