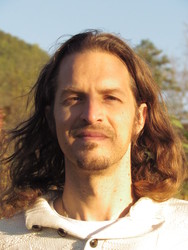 Aluemaku Michael Brasunas Asheville, North Carolina
Spirituality Coach, Life Coach, Health and Fitness Coach
BA, LMBT, BCT
I coach clients into a place of higher consciousness regarding their inner personal life and issues held in the emotions and energetic layers, guiding them to develop practices towards balance in life
Details

Asheville, North Carolina 28801
1 (828) 407-0125
Send Message
Visit Website
Hourly Rate: $85 to $120 US Dollars
Gender: Male
About Me
We all are longing to find a sense of meaning and purpose in life that will assist to put everything else into place. It doesn't work the other way around, for if we are unfulfilled within ourselves, then the outside world will reflect that and no matter how many things we achieve, the emptiness doesn't go away.
My approach is to coach my clients through a process of honest reflection so as to develop powerful practices and elements of recovery of the innate consciousness within us. Clients report experiencing an entirely new outlook on life and a highly refined perception of what is really important and what things no longer need to be desired or expected. There is a great upliftment and relief when the underlying causes of issues that thwart our accomplishing of beautiful goals are removed and brought into the light.
I have been a holistic healing arts practitioner since 2004, and have worked with thousands of clients, guiding them through personal experience and reflections into a clearer state of mind, body, and soul. It doesn't matter if one is black or white, rich or poor, old or young, healthy or sick, we experience many of the same basic concerns and challenges, and the great level of potential we each hold is extraordinary and also immensely unique.
When we begin to unravel the pieces that have restricted our growth, like weeding the garden of our life, the future holds something of majesty that makes us excited to wake up each day and do something meaningful. This can totally shift everything else, from how we approach our occupation, relationships, finances, to ultimately our connection to the bigger picture of life, of the universe, and of our role here on Earth.
I work with each person in a very catered system based on the present circumstances, supporting a reorganizing of ones life at the exact pace that is natural and indicated, never pressuring things in a direction I "think" is best, but following the flow that presents itself each moment.
Reviews
Aluemaku Michael has 2 reviews.
"Michael's support in my journey of healing has been crucial. He has been that steady rock to hold on to, yet with soft edges worn smooth by the winds of life. His compassion, sensitivity, and deep intuition coupled with his personal commitment to healing enable him to bring wisdom and safety to the exploration of my spiritual foundation. Gentle yet firm, he has stood by my side as I navigate my edges and reach out to connect with the love within me. Michael's gift to me is myself; and for that I am grateful."

Benjamin B. from Napa County, CA
"In working with Michael, the most profound thing that I experienced was a session with a Spiritual healer who transmits his connection down to the physical level. He works to support the process of the Soul by acknowledging any blockages that need to be cleared energetically and can pinpoint where they manifest in the body. He doesn't come with a cerebral approach for how he wants to facilitate the session, but rather allows the session to facilitate itself based on what arises naturally. He is very professional and personable in manner and has a very caring and considerate touch. Thank you, Michael for all the support."

Parker P. from Hawaii