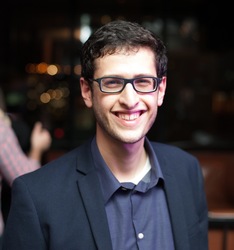 Ari Siegel New York, New York
Business Coach, Relationship Coach, Money and Finance Coach
BA, MA, Robbins-Madanes Life Coach Certification
Are you a business owner or entrepreneur? Whether you want better finances, more life balance, or higher quality relationships, my results coaching program helps you set and achieve your goals.
Details

New York, New York 10119
347-762-7703
Send Message
Hourly Rate: $115 to $300 US Dollars
Gender: Male
About Me
Do you find you do not have enough hours in the day to complete everything to your high standards? Are you constantly pulled in different directions with competing demands from business and personal life?
It doesn't have to be that way. Setting clear boundaries and identifying clear objectives and outcomes can help you achieve more and feel more free.
This is where my coaching comes in. My results coaching program is all about identifying key outcomes in each area of your life and identifying and building tools and resources for you to achieve your best in each key life area. I focus on coaching the mindset of the business owner, rather than improving technical business skills which can be found by hiring a specialized consultant.
My clients tell me about how much better they feel when they are finally able to take control of the key areas in their lives. Many clients feel renewed energy in all aspects of their lives as they learn the tools to take control of where they are and direct their lives to where they want to be.
I grew up around family businesses. My father owns a jewelry store that has been in our family since 1889. My grandfather had an insurance company and my brother owned a tea factory. After completing my Bachelors of Business Administration from the University of Michigan and my Masters in Social-Organizational Psychology from Columbia University in New York, I began a career as a business broker. From there I moved into coaching and helping business owners implement the systems and strategies to take their businesses and lives to the next level.
Reviews
Ari has 5 reviews.
Ari helped us tremendously during an intense period of transitions when I was physically separated from my partner. I thought we could handle all the hardships we faced, but when my partner asked for external help I had to admit a pair of extra eyes, ears, and experienced coaching skills came handy! Ari helped us to maintain and even make stronger our loving, trustful relationship, and extraordinarily he could achieve this on the phone, without ever meeting in person! He is always on time, a spot on great observer and an empath. He has the techniques to help in many aspects of life and I was happy to share and work him! I recommend his expertise warm-heartedly!

Marton, Ph.D, Texas
Before working with Ari, I was insecure in my interviewing and networking abilities. I spent too long focusing on finding the perfect answer, without realizing I was wasting precious time to make my impression. Ari was amazingly patient and helpful when coaching me in career development and professional interactions. After working with him for a few sessions, I felt confident walking into any interview, and was able to say exactly what I needed to say immediately to make the maximum impact in my first impression. I ended up receiving several job offers after completing successful rounds of interviews.

Anne, Orthopedic Surgeon, New York City
I have been struggling with a lot of issues that have slowed my progress to success. But, working with Ari, I've broken through my stuck patterns and (somehow) stayed on purpose and on point. He knows a lot of different tools and tactics, but most of all, he knows what a successful attitude is like. He exudes it!

J.A., Entrepreneur and Artist, Grand Rapids, Michigan
I have had Ari help me with a number of specific issues. Each time he gave me great advise so I could be more effective dealing with those situations. Ari's ability to look at issues from many angles helped me find the best way for me to proceed.

Jim S., Small Business Owner, Michigan
Ari was our coach April - July 2017 as we prepared for a time of transitions. My partner Marton and I were planning to move across the country. One of us was starting a new career and both of us were planning a large event in addition to the move. Ari helped us identify a plan for a financial arrangement that would keep the pressure off both of us, or at least on both of us in equal measure. He also gave us some tools to recognize our similar, different and compatible styles around needs for structure, interaction, etc. He also provided some practical and tailored suggestions for jobseeking. We came out of the coaching with goals and plans for the next 6 months. And I feel reassured that our relationship will not suffer as a result of all the changes, since we have taken proactive steps to identify and relieve pressure points, while giving ourselves the freedom to pursue things that truly inspire us.

Anna, Product Manager, New Jersey