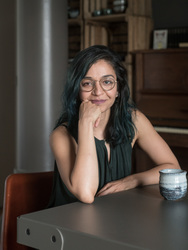 Arwa Rangwala

North Holland
Life Coach, Relationship Coach, Spirituality Coach
BA, MA, Grief Recovery Method Specialist, BCC, RYT
I coach people who are going through major life transitions and dealing with loss - tangible and non tangible losses. I support clients in growing and strengthening their relationship with themselves.
Details

North Holland
+31620805195
Send Message
Hourly Rate: €75 to €95 Euros
Gender: Female
About Me
Who I coach?
Are you lost? scared? Anxious? without hope?
I coach those going through grief, loss, life transitions and are grappling with finding answers, anxiety, identity and belonging issues. I help in integrating loss, and trying to find meaning in life. I coach those who are trying to find a way back to themselves - a sense of connection, and who want to live authentically. In the process reorienting your values and your needs and curating a life for yourself.
How I coach?
I will coach you so that you can create an awareness about where you are in life and where you want to go and how to close that gap. In the process we will reevaluate long held ideas and definitions, see what works and whats hold you back and then redefine those ideas and concepts, in the process, stretching your perspective, uncovering and chasing unhealthy patterned and then working towards integrating a new normal.
The first step will always be to find a connection with yourself - an intimate relationship with self and then every event and relationship with another will be a reflection of that relationship to yourself.
What qualifies me to coach you?
Three years ago my whole life turned upside down with 3 sudden deaths of close members, divorce from a 10 year marriage, single motherhood, single adulthood and being ex communicated from a cult. I was left without an identity and without a community, in a country where u had no family and had lost all friends with two children and a verbally abusive ex. I finished my Masters in the period following that in deviant subcultures focusing on the capacity of people to harm others for the false illusion of security and belonging. Then i decided to become a life and grief coach focusing on processing the past, changing patterns and narratives about self and making meaning out of life events.
I am a certified grief recovery specialist and working towards my ICF certification as well as studying for becoming a certified grief counsellor.
Reviews
I was doubting the path i wanted in my career and was still dealing with loss and grief from my break up. Arwa helped me shift my perspectives and stretched my thinking so that i was able to make decisions from a place of clarity - career and personal life wise. She helped me make see what are the things that add value to my life and how to achieve those and stay balanced and focused. Thank you.

Matea, Student, Leiden