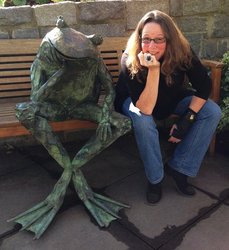 Christine Gautreaux Duluth, Georgia
Life Coach, ADD ADHD Coach, Career Coach
BSW, LMSW
Are you looking for personal empowerment, support, more joy and/or balance in your life? I have experience with ADHD, Creativity, Health/Wellness, Career, Adoption, InterPlay and Life Coaching.
About Me
Christine Gautreaux, LMSW & Certified InterPlay Leader
Christine is a Master Level Social Worker, Life Coach, Retreat facilitator, InterPlay leader and performer with SoulPrint Players. Some of her super powers include building community, connecting people and resources and helping people facilitate their goals and dreams.
I have been a life coach for over 15 years and really enjoy connecting with people and helping them identify & facilitate their dreams. I believe that change is possible and that working together we can co-create a plan to best meet your needs. Most of my clients sign up for a six week package (that way one session is free) and I have seen incredible results in people's self-esteem and accomplishments in a short amount of time. I am a strength's based coach, a deep listener and I use my education, life-experience and intuition in our sessions.
Reviews
Christine has 2 reviews.
This intelligent, passionate and motivating woman has been an inspiration to me. She is incredibly positive and encouraging and since her arrival in my life my confidence, as well as my business, has grown substantially. In my personal life I have grown as well. She always has the right thing to say or the right question to ask so that I may make the best possible decision for myself and my family. I would recommend her to anyone seeking a life coach. Get ready for a whole lot of goodness :)))

Brianna, Co-Owner Sizzling Peach Catering Company, Atlanta GA
Christine played an instrumental role in my mid-life career shift towards small business ownership. She had my back every step of the way, starting from the initial idea and staying with me through all the hard work. Because of her, I am more confident and successful. Christine's experience with entrepreneurs with ADHD is unsurpassed. She is empathetic, thorough, consistent, encouraging, and has a great sense of humor. Our weekly meetings helped me stay on track, dream big, and achieve my goals, and I continue to follow her guidance to this day.

David Waxman, Owner, Gordan Waxman Group