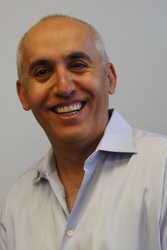 Ebby Benelyahu

Beverly Hills, California
Business Coach, Executive Coach, Entrepreneurship Coach
Newfield & Business Team Coach Certified
A business who is in trouble and looking to learn & grow in the new economy. I service Retail, Wholesale, Manufacturer, Service providers like law firms or Doctors who have at least 3 employees.
About Me
I am the founder of Human Coach Consulting Corp., a professional coaching and consulting firm dedicated to enhancing people's professional and personal lives through practice of business coaching. I am a certified organizational coach and a successful entrepreneur. My background ranges from the textile to the real estate industries. As a coach, I have worked with bank managers, attorneys, entrepreneurs, small and large businesses, and non-profit organizations. I help and support them to address their critical breakdowns and therefore achieve better outcomes in their business and organization. I am passionate about the coaching profession. I believe that the coaching discipline addresses a crucial and necessary aspect of business growth in the new age.
Reviews
Ebby doesn't have any reviews yet.