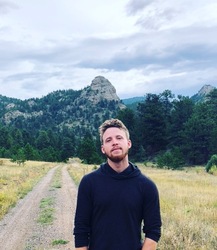 Jack Bynum

Estes Park, Colorado
Leadership Coach, Life Coach, Executive Coach
I help leaders cultivate their capacity for empathic ethical and vulnerable influence, individuals seeking to take their life higher, and men struggling to understand their relationship with gender.
Details

Estes Park, Colorado 80517
845-661-3008
Send Message
Hourly Rate: $90 to $230 US Dollars
Gender: Male
About Me
I am perpetually searching for places of raw solitude where more often I find raw people — beautiful, imperfect, glowing. I'm always asking the hard questions about human's vexed relationship with their ecology. I have taken people into the farthest corners of the globe to construct deep maps of place, self, and grief, and helped grow a new generation of ethically engaged leaders as faculty at the National Outdoor Leadership School, Eagle Rock School And Professional Development Center, United World Colleges, and Wilderness Inquiry. As a coach I use emotion to engage genius. I cultivate vulnerability, empathy and compassion in my clients and students. I am chanting always: commit without guarantees; we are worthy of love and connection. And trying to cary others along in that chant too.
+ I have worked one-on-one with leaders giving speeches to crowds of over 5000 to build a clear and concise message, a cohesive keynote, and a powerful stage presence that speaks for itself.
+ I coach people beyond stagnation and self-sabotage towards manifesting and actualizing their best selves.
+ I have coached clients into more functional work relationships with more compassion, empathy, understanding, and clearer communication.
+ I have worked with companies to develop their image, their brand, and their "why." If you don't start with your "why" you'll never find your "how."
Reviews
2 reviews (5.0)
Jack was amazing -- he helped me enter into a new, deeper sense of power and self just within our first session. I have never met a better listener. He asks perceptive questions and provides advice, but does more to help me access my own truths. Totally recommend him!!!

Faith L.
Jack brought an incredible depth of soul and understanding to our conversations. He asked perceptive questions, pushed me and supported me in tandem, and held me accountable to my own growth. He was generous with his time and often sent me excellent resources to continue the conversation beyond our coaching conversations. I learned from him in two months what I've struggled to learn in 20 years! Because of our conversations I'll dare to show emotions and be my authentic self, letting myself feel both the joys and sorrows of our world. His teaching and trust in me equipped me with everything I'll need to move forward in life. He is one special human being with an incredible sense of deep care, talented with words, and a deep thinker.

Clement R.