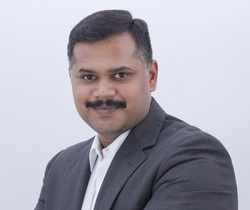 Jeffrey Rakesh N

Bangalore, Karnataka
Business Coach, Entrepreneurship Coach, Executive Coach
Creator of Business Mastery, Master Practitioner in NLP
Markets have shrunk & are dynamically changing in the VUCA era. What strategies would help your business to thrive? Lead your business to its ultimate success with proven coaching tools & strategies
About Me
Having travelled across countries like Singapore, Malaysia, Indonesia, Thailand, Vietnam, Sri Lanka, Cambodia, UAE for various levels of business growth, there has been certainty of business motifs and strategies. JR's Clients are provided with insight's on Business Consulting, Business Development and Coaching which are measured by computed metrics and built on higher level of self awareness and compassion.
Are you Transformative or Transactional oriented? Are you entangled between Organisational Culture and Accountability? Have your functions been prioritised on innovations, Sales, Strategy, Operations, Finance or People Functions? Is there a proportionate growth of the organisation to the market competitions?
Personalities carry varied styles of work ethics. Here, JR will provide the platform to engage and partner with you on the journey that you have chosen and use appropriate measurable tools and strategies to grow your organisation(s) or drive the value chain to maximise your market share(s).
The coaching model that has been deployed to each businesses /enterprise(s)/entrepreneur(s) has given them a sense of freedom that they had never experienced earlier. Such is the credible quotient of JR, with remarkable development under uncertain markets.
This Transformation is well captured in the television series called, "The Powerhouse within You."
JR Coaches C – Suite level Top Executives, Entrepreneurs and Small and Medium business owners, who aspire to achieve prosperity.
To turn dreams into reality, one has to tap the unchartered waters of the self to realise one's potential.
As Tony Robbins quotes, "Where focus goes energy flows."
Reviews
2 reviews (5.0)
I took Rakesh's Business Coaching services after attending his 3 days "Business Mastery" workshop. I had a great breakthrough in my business after this workshop and hence decided to take the coaching services. I now know how to do a Highly Effective Business Pitch where I can convince a client in just 20 minutes of time. Rakesh is a very Passionate, Hard Working, Down to Earth, Highly Efficient and Knowledgable Coach. What I like the most about him is his commitment to deliver results !! He has brought out the best version of myself through which I grew my business 5 times in 2 years.

Vasanthamugi, CEO, Bangalore
"An insightful and empathetic personality, Mr. Rakesh brings trust, integrity and recondite repertoire to work with. His perpetual persistence to resolve business objectives with pragmatism and strategic accountability, is laudable. I staunchly endorse his problem solving methods and applications."

Deepak, Entrepreneur, Bangalore