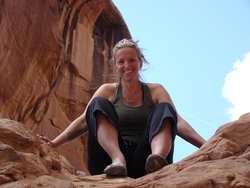 Jennifer Bentley

Kelowna, British Columbia
Life Coach, Relationship Coach, Spirituality Coach
Justice Institute of BC, BCIT, Private Facilitator & Coach Training Organizations
Hello I am Jennifer Bentley and I am a Life Transition Coach, specializing in helping women who have experienced loss overcome fear and uncertainty so they can begin creating a life they love!
Details

Kelowna, British Columbia V1Z 2K2
250 863-0101
Send Message
Visit Website
Hourly Rate: $85 to $140 US Dollars
Gender: Female
About Me
Unfortunately when it comes to loss there is no handbook on how to navigate it. Each person will experience loss in their own way, because grief is a deeply personal journey. Regardless of whether our loss was sudden or something we knew was coming the truth is we never really feel ready for it. Struggling to cope, overcoming the fear of the unknown and wondering if we will ever be whole again, becomes the new norm, BUT it doesn't have to be that way.
My job as a Life Transition Coach is helping women just like you find their way back to a life filled with purpose, hope and yes, even happiness! As your coach I will support and guide you as you walk through the process of grief and letting go of what was. I will also encourage and support you as you take those first brave steps into finding yourself and beginning the next chapter.
Working one on one with you I will help you create strategies that will stop those 2 am conversations that run in your mind telling you that you are not enough and this is too much. I will give tools to face your fears, tackle self-doubt and empower you to move forward, always trusting in your ability to create a life that feels authentic, fulfilling and joyful. It is my deepest belief that we all deserve to live we love and that anyone can go from breakdown to breakthrough!
Reviews
4 reviews (0 verified) (5.0)
You walked with me in the valley of darkness and brought light into the of darkest days. You made me laugh when I wanted to cry. You picked me up when I was down. You changed habits, broke addictions and literally transformed a me! You taught me a new way of thinking! And you taught me that "I Am" what's right with this world! I am and you are! You are my mentor! You are my Coach! Namaste!"

R. Olsen, Vancouver, British Columbia
Jennifer's approach to coaching is clear, compassionate and empowering. Jenn has taught me to step outside of my comfort zone and take risks because she sees my potential. I learned how to create an action plan with measurable results. My possibilities are endless now that I have gained the power to conquer my fears."

April, Vancouver British Columbia
Jenn has a great natural ability to coach. Working with her gave me great clarity on what needs to be done and how to do it, she works in a very holistic & solution based manner. As time progresses the value of work done with her unfolds day by day. Thank you Jenn"

M. Hamwi, United Arab Emirates
When I first started working with Jenn, I was a recently widowed single mom of four kids just beginning the process of healing from my husband's death and reinventing my own identity. After working with her for over two years, I can honestly say that there is no one on the planet that knows me better, accepts me just as I am but pushes me to be better, has complete faith in my abilities, and encourages me to be the best version of myself everyday. Everything in my life is completely different—I have consistently achieved my goals, traveled the world, challenged myself mentally, physically, and emotionally, and vastly surpassed the professional goals I set for myself. Most importantly, I have found true joy and happiness in my life—I feel connected, inspired, of service, and in love with life every day."

Amanda, Charlotte, North Carolina