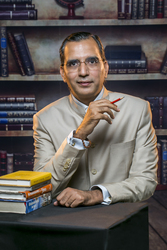 Kuldeep Surolia Bangalore, Karnataka
Life Coach, Career Coach, Business Coach
Are you stuck in your career,business or education? Going through pain of no forward movement? Loosing confidence? Connect with my team NOW to embark on a journey of success & satisfaction with surety
About Me
I know.
You've tried everything to fix this problem. And tried again. And then maybe even tried more, harder, slower, higher, faster. Nothing has worked.
If this is where you are with any situation, in any area of life, please allow me to show you how to take clear action to get direct solutions that will guide your choice of your way forward. The simplest way is you go ahead and buy my book on "Self Coach to success". But in case you need more direct support, then lets work together .
The unique part of my coaching process is that I don't work alone as I have a team consisting of hand writing analyst, Psychologist, doctors, Hypnotist, astrologers, Yoga experts to name a few. I take a very few selected clients in a month and go for 360 degree analysis to ensure that the coaching objectives of my clients are met. You will gain insight and clarity through shared questioning, conversation and humor. You will see that this process is one of increasing joy, the very stuff of life, the goal of life. If life alone were the goal, there would be no suicides. Nor even a concept of them. It's the 'Pursuit of Happyness' we are all after.
As for me,I have over 20 years of global corporate experience having worked as an consultant, Trainer and Project manager to some of the leading banks across the globe. I have travelled to most of these countries and got an opportunity to learn the culture and element of human psychology and dreams. The travel and the interaction allowed me to learn the secrets of not only surviving but also performing and being successful in different cultures. I am also running highly successful two educational institutions in India. Most of the time I teach students & Parents there on the topics of Value Education, Career Counseling & Parenting. I am the author of the International best seller book,"Super Brain Yoga" & my other books on Self coaching has also been in high demand from across the globe.
Click on 'Request Free Consultation' button NOW
Reviews
Kuldeep has 5 reviews.
"Sir's Life Coaching office is a place where I learnt humanity, spiritualism & sadvidhya… U will be always my guru sir. Thank u Sir for all guidance."

- ~ Sneha Malwelkar (Student & Teacher from Mumbai)
"Being the passionate teacher & coach that you are, you give wings to imaginations, ignite the curiosities, answer hundreds of questions, maximize our calibers, and encourage the students to go beyond the limits . You've modeled so many little lives, and so beautifully with your expert vision. Thank you Sir for all guidance & support…"

- ~ Mr. & Mrs Alok Sarkar (Momentive)
I really enjoyed my coaching sessions and the opportunity to learn from such an articulate, well informed person with a variety of life and business experiences that could offer perspective and objective commentary on my current career situation.

I appreciated having someone with me to remind me of the skills that I have at my disposal and of the accomplishments that I've made so far. Self-evaluation and reflection are emotionally difficult, but necessary for the decision-making process, and I benefited by having a coach like Sir Kuldeep Surolia to lead me through these waters. A counter-balance of reason to the emotion of the moment, encouraging me to step back and view the entire landscape. And practically speaking, regular sessions kept me focused on the points I wanted to accomplish so that I could report my progress and get the cheers!

Thank you, Sir.

- SS, Project Manager, Government sector
Sir Kuldeep Surolia's life coaching session was an amazing experience. One I think many people should embark upon. His techniques and exercises are really developed towards changing not only your habits, but your outlook on life and decision making skills. As one of his clients, I can genuinely say that by using her services it has organically changed my thought process towards my life. I would highly recommend her to my friends and family. The experience was nothing shy of amazing and heart warming. Sir helped me to change my life for the better.

- -Brian , Software Professional
I just have to say how grateful I am for your help so far.
My mood, thinking and everyday experience are so much better in such a short amount of time; I never would have believed it was possible.
Thank you -thank you!

- AJ, Author