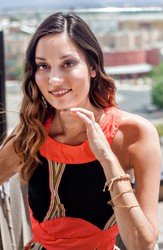 Lacey Nagar

Albuquerque, New Mexico
Entrepreneurship Coach, Career Coach, Life Coach
MPA, Confidence and Visibility Coach, Author, Life Coach
I coach entrepreneurs who are struggling to get in front of and connect with their perfect clients, and I coach professionals who know what they'd rather be doing but aren't sure how to get there.
About Me
When people ask me why I became a coach I usually tell them about my background as a case manager, and how the one thing that frustrated me most was working with clients who didn't want to help themselves. Coaching was a way for me to work with people who are committed to making a change and who want to better their lives.
If I had more time I would tell these people more about my background... which I talk about in my business, regularly. I was diagnosed with a chronic, progressive disease at age 12. And for the next 20 years, I constantly felt like there was something fundamentally wrong with me and that I wasn't good enough. I knew I wanted to help people and I eventually realized I wanted to work for myself. But I was terrified of being seen. Because when I really put myself out there to market myself and my products, everyone would be able to see me and my physical flaws... they were going to see that I wasn't perfect. It took me 6 months just to do a live video in my business because I was so worried about being judged or people thinking that what I had to say wasn't helpful.
Because it was so hard for me to put myself out there in the beginning of my business, I've spent the last several years reading dozens of books, working with mentors, attending retreats, and testing confidence and mindset tools that I can share with my clients. I support my clients with the specific action steps that are going to get them to their goals as well as developing the confidence and mindset that's needed for them to keep showing up, playing bigger, and creating the life they truly desire. A life full of abundance, love, freedom, and confidence.
Reviews
5 reviews (5.0)
I had never taken the time to think about who I wanted to work with which was keeping me from bringing in the clients I desired. Lacey helped me to think outside the box about how I am marketing my services. I'm not looking to work with just anyone. Since working with Lacey, I have been able to change how I market myself, improve my offer, and highlight what I offer that other people don't.

Emily, Rodan + Fields Consultant, Merritt Island Florida
I sought Lacey's help because I was too afraid to go after one of my biggest dreams: to become a Professional Resume Writer. Lacey helped me develop a clear action plan to accomplish my milestones. She addressed my fears and helped me to tear down my barriers. She had this incredible way of seeing the positive in every situation. Because of her, my confidence in my career has soared. After a few sessions with Lacey, I finally took the leap and started freelancing as a Professional Resume Writer. I've been freelancing for almost 2 months and I just finished working with my 10th client!

Browning, Freelance Resume Writer, Albuquerque NM
With all the small tasks that add up in running a business, I was struggling to find the time to look at the big picture and really move my business forward. I was procrastinating. Working with Lacey helped me to put myself in front of my audience both online and in my community. As a result of our work together, I can now think about the big picture and I have the tools to break down strategy into smaller, actionable steps. No more procrastinating!

Samantha, Website Designer/Blogger, Albuquerque NM
I am definitely an entrepreneur who struggles with putting myself out there and am always looking for ways to navigate that challenge. It was obvious that Lacey understood and could empathize with my indecisiveness. The first thing we did was brainstorm ways to narrow down how I define my ideal client, which is something I've ALWAYS struggled with. After this simple brainstorm, I walked away feeling a renewed sense of excitement about my target demographic and also a greater ability to give myself permission to let it evolve as my business evolves.

Sandra, Life Coach, San Francisco CA
Before working with Lacey I felt stuck in my job and was doubting I could make a change. I was instantly relieved of stress after one phone conversation. She helped me to realize the drive and motivation I had within myself. Because of Lacey's help I put myself out of my comfort zone and have since accomplished something that I only thought was a fantasy! She helped me to realize I had already made a decision myself in my mind, that I didn't need anyone else's approval, and that with effort I could make it happen. It is happening! All so unbelievably fast. I was able to land my dream job, in my dream city and am moving in 3 weeks!

Allison, Event Planner, Las vegas NV