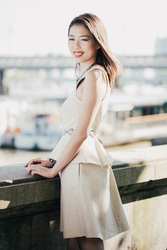 Laurel Lau Melbourne, Victoria
Leadership Coach, Entrepreneurship Coach, Life Coach
MS
Till this day, there's not one person who seems like she fully sees you. You have enlightened to these new truths of your powerful being. You want to share your dream and creation action plan.
About Me
It's easy for me to create rapport with High-performers because I am just like them.
For some professionals and business owners, they have one or two things in their life that are blocking them from reaching limitless potential.
I enable high perfomers to thrive in demanding and fast-paced environments.
☆ I am a personal coach for business owners, innovators, female leaders and rebels.
☆ I help them go beyond their horizon and achieve greater self-awareness using mindfulness techniques that I have developed and honed in the past seven years.
☆ I have a unique gift in articulate where you are at, and drive you to let go of fear and create change.
Feedback from Clients: http://www.laurellau.com/clients/
Reviews
Laurel has 5 reviews.
Before the session I was substantially stressed. I had recently been through a hard time, resulting in various symptoms such as heart palpitations, anxiety and irritability, and difficulties sleeping. I had lived with these symptoms for several weeks, and needed a way to relax and deal with the situation in a better way.Although I had done a little research into what energy healing was I wasn't exactly sure what to expect, and how exactly it would help me, but was willing to try. Within the first 10 minutes of the session, I was far less tense, and began to relax. I closed my eyes, and began to reflect on my recent experiences. By the end of the session my heart rate had returned to normal and I was no longer feeling irratated or anxious as I was previously.After the session, I was feeling much more energetic, and was feeling slightly more content with my life. Several hours later, I took a short nap, and was still very much relaxed. It has now been almost a week since the session and I am still very much stress-free. Although it has not magically solved all of life's problems, I believe it has given me a chance to pause, and reflect on current events, and deal with them in a better way, whilst enjoying life at the same time.Laurel is clearly experienced in this area. She ensured that I was comfortable before the session began, and I understood what it was about. I would highly recommend to to anyone who is going through a difficult time in their life, or has experienced any amount of stress.

Amro
I am a coach and entrepreneur - I've been working hard to get a new business started. Despite having a good social network and lots of support, I felt tired, a bit unmotivated and fuzzy-headed.Last week I had my first session of energy access therapy with Laurel Lau. I lay on a massage bed as Laurel gently touched various points on my head on feet while she lead me in a conversation about what felt stuck for me and where I was trying to go. After an hour, I felt what I can only describe as clear. It was as if I had had a headache for so long I had stopped noticing it, but now the headache has lifted. A week later, I still feel more clear and am recovering my energy.

Michelle
Laurel was the first person to get me to say out loud what I really really wanted in a husband. I always knew but I thought it was impossible to find such a man. I felt so uncomfortable telling someone how high my standards were but it was my truth.What Laurel helped me realise was that I still had many layers of details that I needed to become conscious of and bring to the surface so that my ideal man could find me.Laurel got me to see the barriers that I had been hiding behind. Low and behold, within a month, I had three incredibly successful men start courting me.What was most exciting was that it was not just my personal life that changed, everything in my life started to feel easier, freer and more enjoyable.Why? Because Laurel helped me to be 100% honest and true to who I am at a level that I had never gone before. When that happened, the energy I started to put out changed and I began to attract what was right for me.Thank you Laurel – I feel like the most enormous weight has been lifted off my shoulders and that I can now finally achieve my dreams by simply being me.

Anna
Laurel is an inspiring leader, and an outstanding transformational coach. Her deep understanding of human relationships, behavioral change, and her experience in startup and engineering environments give her a unique ability to assist entrepreneurs, leaders, and managers through their careers growth by providing personal development journey. I highly recommend her as a coach and a workshop facilitator.

Salmen
Inspirational, Motivational leader, capable of taking control of a room, whilst extremely receptive to individual's needs even when they themselves aren't aware. Superb communicator able to translate abstract concepts to pragmatic actions. Hope to have the chance to work with her again in the future.

Hedi