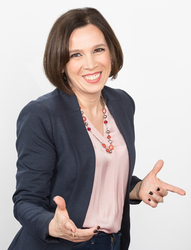 Luiza Stefan Bucharest, Bucuresti
Career Coach, Life Coach, Money and Finance Coach
Looking for a career transition, doing things meaningful for you, using your knowledge, skills and passion? Would you like to be happy going to work? With me it's easy & fun to discover your new path!
Details

Bucharest, Bucuresti
0040726186300
Send Message
Hourly Rate: €50 to €100 Euros
Gender: Female
About Me
I am an ass-kicker! Cut the bullshit and stick to the point... you already lose time, money, friends, opportunities ... For how long are you going to do it? Is this your plan? Do you to want to spend your life in pain, complaints and excuses, or is it the time to decide that you can become an EXAMPLE faster and easier than you became a VICTIM?
My question is: do you want this? Something good has already brought you here, kept you alive, made you smile. Start from here and build your own way to success.
I can help you - I add fun, stories, a pleasant state and a compelling vision for the future.
It's up to you to decide.
Here is my story: after 10 years of work in a state company I decided to move in a private big bank corporation. I spent there another 15 years, starting a department from scratch and getting to run it. I used coaching to make a different type of management, something that really helped people evolve and thrive. Most of my former direct reports are now managers themselves and some also built their own companies.
There is nothing else in our stories but work, learning and a constant desire to become better, to contribute, to have fun and to live a normal life.
I present myself very successful doing what I want and being happy with what I have... a good mood in the morning, a pleasant place to work and enough money to live, learn and travel. I meet magnificent people - as you are - who teach me each and every day lessons about being human and humble, as we are partners on your path to success.
Are you ready? Here I am!
Big hugs,
Luiza
Reviews
Luiza doesn't have any reviews yet.