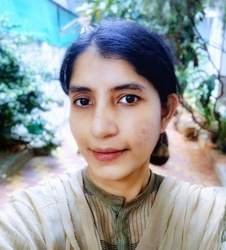 Mehnaz Amjad

Hyderabad, Andhra Pradesh
Life Coach, Career Coach
CBT Cognitive Behavior Therapist
I help mid-senior-level working professionals find clarity & direction in life, especially those struggling in professional space due to personal issues & do not understand the what & why behind it.
About Me
As a Coach, I help my clients reconnect back with their inner selves, and uncover what is really holding them back by identifying and addressing their underlying fears, patterns, and limiting beliefs.
Although I coach a variety of individuals, my specialty is working with mid-level working professionals, helping them gain clarity and the right direction in life, especially those ;
1. Who find themselves after a long hiatus, in a phase of life, confused,
2. Trying to figure out what to do next
3. Constantly wrestling with a thought what's amiss?
4. Feeling shameful and inadequate
5. Feel lonely, despite a wide circle of connections
6. In search of something meaningful
7. Suffering from low self-worth
​My coaching enables, clients to take an inward journey, re-align with their inner self and find a way out of the problems they find themselves stuck in.
​Some of the results my clients have achieved through my coaching include:
1. The ability to make better decisions more quickly and confidently
2. Understand what's the root cause of the issue, its impact, and the long-term consequences of it
3. A deeper understanding of their inner self including one's blind spots
4. Values and guiding principles that drive them
5. Increased belief in oneself and one's ability to achieve whatever one put their mind to.
To be precise, assist working professionals in their personal space, so that they live the life they always wanted to.
Reviews
Mehnaz has completely changed my life, to a better life of course. I would recommend Mehnaz at any time, because I know everything she's telling you comes from a place of passion and honest desire to help, she has enormous knowledge and experience and on top of that she can connect and explain very well. Mehnaz is also at why time available no matter time or circumstance, and she will always try to make the best out of every doubt you have. Best coach ever!

José Baptista