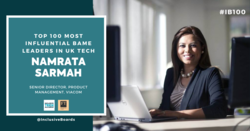 Namrata Sarmah

London, England
Career Coach, Leadership Coach
BS, MBA, Executive Leadership Programme - Harvard Business School
I coach early/mid-career professionals who are looking for a job/career change; trying to move into product management/tech roles; require help with their management style; juggling work-life balance.
About Me
**Named by Financial Times as one of the Top 100 Most Influential Leaders in the UK**
Highly experienced professional with solid experience in senior management and leadership roles in the UK, US and India. My background is in technology and digital product management. An MBA from Manchester Business School, and a trained Executive Leader from Harvard Business School, my strength lies in helping fellow professionals in building their career roadmap, leadership development, and personal branding. I have experience of working with large multinationals, mid-sized companies, and innovative startups. In terms of sectors, I have worked in IT, FMCG, Telecom, Media, Healthcare, Beauty, and Broadcast. I currently work full-time as a Senior Director of Product at a global media conglomerate. I am a seasoned public speaker, and one of the key influencers in the UK Tech sector. I am also a Board Member and Advisor at several UK startups & public companies.
My approach is different! It's practical and based on first-hand experiences from my own career. There are no frameworks - I will share about my struggles and triumphs and focus on the 'how' rather than the what of things.
Below are the areas I can help with:
-Career roadmapping/planning
-CV writing
-Career change or sector change
-Early career advice (for students)
-Leadership and people management
-Product & Technology career development
-Work/life balance
-Returning to work from maternity leave or career break
-Career development focused on BAME (Black, Asian and minority ethnic) professionals
-Portfolio career development (NED, Trustee, Advisory roles)
-Public speaking
-Building a strong external/public profile
-Personal branding
-Networking skills
Reviews
6 reviews (5.0)
I was lucky enough to be Nam's mentee for about 6 months. Throughout the process I never felt that she was advising/teaching me. It felt like a really fun project with someone who is highly knowledgable yet down-to-earth. Nam's spirit is infectious; 'nothing' is difficult for her and she makes you feel the same. She boosted my confidence tremendously, and I still reach out to her if I am ever in doubt or distress.

Marissa G
Namrata mentored me for several months as part of a major mentoring programme. She provided me with valuable insights and advice towards my career as well as my personal development. I would be forever grateful for her support. She is a brilliant Mentor! You are lucky if she agrees to be your guide.

Adam S
Namrata is a brilliant mentor! I have tried several in the past, but none like her. And what she charges is nothing compared to the value of her coaching. She is the best mentor ever. I dont think anyone can even compare.

Nikki S
Namrata is the best mentor I have ever come across. I found her through a friend of mine who speaks very highly of her. When I started the mentoring journey with Nam, I realised how fortunate I am to get such guidance and clever advice to navigate my career. I still follow every single thing she told me and it helps me always. Nam has a huge role to play in my success!

Richard H
Namrata has been my mentor for about a year, and that was an extremely productive time for me. Ive been going through a career transition, so Namrata helped me a lot to evaluate my options, build the plan and adjust along the way. She is an excellent listener, leaving you space for those precious a-ha discoveries from inside, rather than dispensing one-size-fits-all prescriptions. Finally, thanks to Namrata, Ive built the confidence that I could make it into my dream career. Cant recommend her more.

Yulia L
Nam is the kind of person who would know exactly what shed be doing in 5 years time. Forward thinking is her super power! She mentored me few years ago and helped me in drafting my career blueprint. Nams approach is realistic; it includes Plan B/C/D. Shes pragmatic and doesnt give false hope. She is an excellent leader and thorough in whatever she does. If you have her by your side, success will follow.

Mohit P