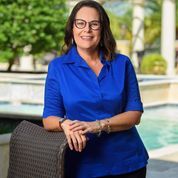 Norma Zeringue

Baton Rouge, Louisiana
Business Coach, Executive Coach, Leadership Coach
Certified Profession Co-Active Coach, ICF Certified, IIN Health Coach
Are you someone looking to make changes in your life? Are you stuck in your current journey? I am here to walk the path with you to find opportunities to explore and implement the changes.
About Me
I coach individuals who are looking to make changes in their life. These changes can be career changes, leadership changes or overall life/health changes. Do you feel like you are stuck? Do you feel you don't have any opportunities or options to make these changes, or don't know where to begin? Have you lost your creativity?
There are plenty of opportunities in front of you. Looking at opportunities from different perspectives allow you to see the winning opportunities within your reach. I walk the path with you in exploring these opportunities and finding the actions needed to get you unstuck and on your way. My clients find these integrated steps of exploring different perspectives of their opportunities, leads to sustainable changes in their lives.
My 30 plus years of working in a Fortune 500 company, leading large teams and creating strategies to grow organizations and their cultural norms has afforded me the practical experience to assist my clients.
My extensive coaching and leadership training, along with opportunities to work with a diverse group of executives, entrepreneurs and multiple levels of staff, gives me perspective on meeting clients where they are.
My coaching style is based on co-creating with my client. Coaching is about you as a whole person: your values, goals, work ethics, and life balance and purpose.
Most clients want to achieve specific goals so they can lead a more fulfilling life. We will design a plan that is specific to your needs and aspirations. As your coach, I am your Champion. As such, I hold you naturally creative, resourceful and whole, and as the expert of your own life and work.
Together we will deepen the learning about yourself and move you forward into action. Always from a place of championing you to the best version of yourself; I will ask questions to challenge you to and listen carefully to your answers.
Reviews
3 reviews (5.0)
Norma was integral in my being able to make the professional decisions I knew deep down I needed to make but was struggling to find the courage to do so. It was incredibly refreshing to voice my concerns and ideas and have someone actually hear what I was saying, not just listen to me speaking. Norma was calm and patient as I worked through what I wanted to do and how I wanted to do it. She stood by me and helped me find my confidence to acknowledge what I wanted both professionally and personally. Norma wasn't just a sounding board, she was a trusted resource that I know I will rely upon in the future.

Stacey F.
Early on in my career, one of my previous leaders encouraged me to work with a professional coach (I had recently been promoted to a Director level position). At first, I did not realize or fully comprehend the purpose, intent, or benefits of coaching. That first interaction with a Coach taught me that "Success is a series of events and situations that allow you to understand your growth potential and establish the building blocks needed to build your reputation as a leader and earn the respect of others in your field. After all, it is all about how you are perceived by others and your ability to drive outcomes that define your success. Twenty years later, I entered a different stage in my career (SVP Level to CEO). This time, I decided to seek a coach to assist me with the transition, given the difference in the roles/responsibilities I was about to undertake. I felt I needed to take a step back and validate what I have learned over the past twenty years. Over the past six months, my confidence levels have improved significantly. My ability to feel confident in my new role has changed how I approach my team, peers, and even senior leadership. Coaching has also allowed me to prioritize my family and ensure I maintain the right work-life balance. My confidence level and ability to see the big picture is a tremendous asset to my team and me. I would highly recommend Norma Zeringue as a coach for anybody interested in working with a genuine, thoughtful individual who approaches the situation based on your strengths and allows you to see your full potential.

Jose A Loza
I have been working with Norma for a little over a year and, put simply, I feel as though my leadership and communication skills have been upgraded, and my ability to handle adversity both personally and professionally, has immensely improved. Her coaching has helped me gain respect and confidence in my ability to gracefully evaluate and manage moments that would have previously created discourse in my mental or emotional state. Her approach is respectful, authentic and honest, which provides a very unique environment to learn and grow. I always look forward to our calls and have immense respect and gratitude for the time that we have shared.

Gina Fioretti