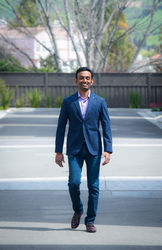 Life Coach, Performance Coach
Graduated from a Top ICF Accredited Coach Training Program
My ideal clients are professionals who are tired of the status quo, hungry for change who are looking to obtain better health, more energy, amazing relationships and even higher levels of performance.
About Me
Have you been working hard but unable to get the promotion or career advancement you want? Are workplace conflicts creating emotional distress and affecting your personal life?
Is your baggage from a past relationship holding you back from enjoying life and success? Do you want to create space in your life to get the love you deserve?
Does any of this resonate?
If yes, you have come to the right place. Everyday, I partner with high performing professionals who are going through a version of these struggles and were until recently fighting these battles alone.
I am a Coach and a fierce Champion for professionals tired of the status quo(someone similar to my old self) who seek a more energetic life with even higher levels of performance, enjoy better health and forge everlasting relationships.
For years I was leading an unhappy life filled with societal expectations and unfulfilled relationships. Simultaneously I felt trapped in a career managing projects for fortune 500 companies. I started my journey to get out of the rut and explored one of my talents-namely playing cards. My competitive instincts, skill with math and ability to manage risk was a perfect recipe for a career at the highest level. There was still a void and my personal life suffered. I was scared to commit and the moment there was any potential in a relationship, I got myself out of it.
Through a combination of desperation, curiosity and a desire to invest in myself, I hired a life coach. Frankly, when I hired her, I thought to myself- This might not help much but wouldn't hurt to give it a shot. I severely underestimated the potential outcomes. My coach opened me up in ways I never imagined possible. I started owning who I was in this world and what I wanted. In the process, I overcame years and years of conditioning, cultural and societal barriers. I was able to create space for a great relationship with a wonderful woman (my wife), while also transitioning to a full-time coaching career.
Reviews
3 reviews (5.0)
Thank you Ram for your insight and support. You have helped me clarify my goals and dreams. Your entrance into my life right after my divorce was great support for the transition and I have grown closer to my children as a result. I look forward to working with you in the future and reaching new heights!

M.J., IT Sales Professional, Pleasanton
I was really skeptical going into my first life coaching session with Ram. He seemed like a nice guy, but I honestly thought he wasn't going to tell me anything I didn't already know. I was pleasantly surprised by his wisdom, patience, and fearlessness. Ram took time to orchestrate a revealing of my innermost feelings and address the truth and fallacies within them. He was not afraid when I was reluctant or dismissive. He made sure to dig deep, cut through the BS; find out what really drives me and why I'm not getting what I want. Going into the second and third sessions I was skeptical in a different way, thinking "there's nothing else he can help me realize." But after each session I felt powerful and more confident than ever before. Ram truly helped me and I think anyone would benefit from his life coaching.

H.S., Entrepreneur, Fremont
I'm a 27 year old woman who has spent a lot of time recently trying to figure out who I am, and what I really want out of life. I have explored different things like getting more in tune with my faith, having perspective based conversations with peers I looked up to, or were in a similar point in their life too. I spent a lot of time talking to family, and shared this same confusing time with a specific cousin of mine. I also spent time trying to incorporate new and healthy habits into my life. Even though I did all of these things, I still felt extremely unfulfilled. I felt like I was unsure of what exactly it was that I wanted and even more unsure of how to route myself to the life I was going to ultimately want. My cousin got in touch with Ram and said he offered him a free life coaching class. Me, being my usual skeptical self, laughed at the thought of it. I felt there was no way that a person was going to tell me anything about myself that I didn't already know. I mean I spent all this time learning about myself already right? No completely wrong actually. I firmly believe that there are certain people who are placed on earth to help us become better versions of ourselves and Ram is one of those people. The most important thing to remember about life coaching is that it's a mirror and not therapy. It's to show you things about yourself you may not be seeing, and working on them to really excel and become the best you. I am 3 sessions in and Ram has literally helped me change my life already. I have established a schedule, goals, and a route…finally. Right before my third session, I met someone and am still currently dating them. For perspective, Ram's project for my 2nd session was focused on my past romantic relationships and how they had weighed me down. I felt very hopeless about that aspect of my life, I didn't even mention it to him in the first session but he definitely picked up on it. None of this is coincidence, but instead a true testament to how in tune Ram is with what he does. He is a passionate coach who is enthusiastic and honest. I would recommend him to everyone I know regardless of where they are at in life just based off the fact that I know he will accelerate the growth that we all ultimately seek. I can't thank Ram enough for what he has done for me! A really awesome human being!

H.R., Solopreneur,Fremont