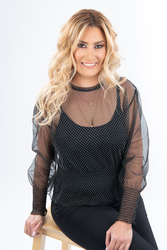 Roula Badis

Laval, Quebec
Life Coach, Business Coach, Entrepreneurship Coach
ICF member, Project Management, Certified Thetahealing practitioner, 10+ years of experience in Business
I coach professional and entrepreneurs to breakthrough in career and business to achieve the ultimate dreams in a way that reflects positively on all other aspects of their lives. healing relationship
About Me
Are you asking yourself "what is next?" or "or what is there still for me?". Are you doing it all and still unable to achieve your goal? Seeking recognition or promotion with no hope or feeling trapped in one pattern that keeps happening in your life? and life seems to act in another direction than your preferences?
Well, let me give you a hand in that!
My coaching techniques are developed to help all individuals, especially professionals and entrepreneurs, to breakthrough and make their dreams tangible before their eyes. Making countless possibilities visible and support them in changing the current reality to a new prosperous one, clearing all barriers that they might not recognize having them. Those techniques will not only improve their professional and financial life, but it will reflect on all other aspects of their lives. Giving them the freedom and the life of prosperity, love and success, they are looking for and open their eyes to a countless possibilities and opportunities and to the beauty of just being.
My qualifications would tell you that I know what I am talking about and I am capable to help effectively, with my 10+ years of experience in senior management of Business Development and sales, learning and development along with Business Administration bachelor's degree and project management. I am also a Certified Coach equipped with many neuro-linguistic programing techniques that understand the Human's brain function and speaks directly to it , and a Certified Thetahealing practitioner which is a great energy healing modality that identifies any potential block in a human being, clears it and shift his mindset to align with divinity.
But it is not ONLY about my Qualifications, it is that I did it to myself! I've changed my own life with my bear hands and with the minimum knowledge I had, and for each No I faced I put millions of yes to my dream.
That is why: I know how it feels and I know how to deal with it!
Sincerely,
Roula Badis
Reviews
2 reviews (5.0)
I am indeed grateful to have have been matched with Roula Badis. Roula has shown me awareness of myself, and how change is possible for the better. The sessions with her have shown me how to embrace a better me. Also Roula has given me some of the tools that I can use to continue being a better version of myself and to continue to be stronger as a person. What Roula has shown me also is that confidence can take you a long way also. Thank You very very much.

Ricardo Mohammed
Rola was able to fix my mindset, helped me with how to price my services. With that help i was able to close a lot more deals, and with the right mindset that Rola as helped me achieve, i have been closing bigger deals.

Michael George