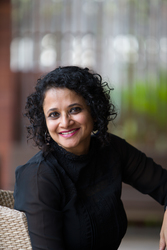 Sheeja Shaju

Pune, Maharashtra
Leadership Coach, Life Coach, Relationship Coach
Are you stressed about relations or work?I work with women & corporate executives enabling them to take care of what they care about, connect with their bodies & generate results that matter!
About Me
Sheeja Shaju
Director of Learning, Leadership Coach and Somatic Leader
Institute for Generative Leadership, Asia
'Sheeja is an extraordinary life coach and a somatic expert. I found her sessions to be immensely helpful and her approach to understand human issues is empathetic & without fault finding . She has deep understanding of human psychology and her ability to unravel the unsaid complex emotions is immense .If you are looking to understand why things don't happen the way you want and are keen to make a difference to your life then Sheeja can be great guide. My life is good and I am enjoying this renewed phase of my life and have brought back the missing focus - Thanks to you :) but yes still a lot of ground to cover'
-Naresh J., General Manager, Pune India
(He has requested his identity to be kept confidential so name has been changed).
•Coached and trained Women, Businessmen, CEO's, Directors, Senior Managers, General Managers, Business Unit Heads from IT sector, Banking sector, and the Manufacturing sector.
•Expert in the "Body of a Leader" subject, and has worked with leaders of organizations in building practices around getting these leaders to "listen" more actively to their bodies, and the bodies of people who they lead and interact with.
•Certified in 'Power of Embodied Transformation' by Coaches Rising, Netherlands.
•Dance Movement Therapist certified from The International Dance Council, France and Creative Movement Therapy Association of India.
•Clients include organizations like Siemens, BMC Software, Mercedes Benz, Endurance Technologies, Faurecia, Hexaware, Reliance Broadcast and many more.
•Founder of Project Azaadi which exists to make free basic education available to under-privileged women.
•Contributing Author of Somatic Practices for "Become: The 5 critical conversational practices that shift 'who you be' as a leader", a leadership book authored by Sameer Dua.
Reviews
6 reviews (5.0)
Before I was coached by Sheeja I used to be confused about decisions I had to make in life and my relation with my teenage daughter was also hitting rock bottom. Sheeja brought that much needed relief in my life. She even helped me see the reasons for some health issues I was facing that time were in the way I was managing my emotions. With time and her coaching as well as the Somatic Practices that she recommended, I was able to make grounded decisions, understand my daughter more and even take care of my health! It was a great one year with Sheeja and the effects still last!

Bindu
Sheeja is very perceptive and warm. She understands you as someone who has a history and more importantly a future that you can design. Using centering practices, somatic exercises, and conversations she creates the space to meet the leader in you. It was particularly helpful in going out and making offers to potential clients with confidence. I also learned to center myself so that I can hold myself in situations that were challenging.

Madhavan Palanisamy
Sheeja is an incredible coach. She has every skill that any coach anywhere in the world needs to have. She is the mirror that is needed for someone who wishes to be coached. She has the ability to listen to her coachees without making any assessments about them whatsoever and helping them decide themselves about the actions they want to take to take care of their cares. She is amazing at helping her coachees get clarity and connection with their own cares. She makes her coachees feel very comfortable, enough to open up freely, and have an effective conversation that helps them get the results they want. She holds the space beautifully for them, something that is so needed in such coaching conversations. Most important of all, she is a Somatic leader, a leader in the space of listening to the body. This helps her put her coachees at ease right at the onset, through her incredible centering practices. Which helps make her coaching sessions all the more effective. This expertise, this skill is rare amongst coaches. She is amongst the few coaches who have studied and practiced Somatics, listening to the body, as an important part of every person's generative leadership skills. Sheeja is a brilliant and is a delight to work with as a coach! If you need or want to work with a Coach, have Sheeja work with you without any hesitation! That is my suggestion based on my experience of knowing her for the last many years.

Prashant Dua
Being coached by Sheeja was a great experience - I saw first hand how to be non judge mental and compassionate yet holding every coached to a high potential that she saw in each of us. I am glad for all the practices, and questions that she asked that caused us to reflect on our actions! While it took me a while to catch up, I am glad for the opportunity and patience that she showed and continues to show, even to this day.

Anila Nair
Thanks to Sheeja's coaching, I created some very empowering stories in 2 years that helped me pass major hurdles in business & personal life. She always gave space to understand my perspective, gave direction such that I can find my own solution (not get dependent on her) & was upfront (in nice way) in pointing out my mistakes. Her somatic practices made me see my body talking to me every moment & give lot of awareness. She is one coach I will always go back and very sure of getting right direction.

Kapil Agrawal
Sheeja is a force of nature! Her coaching has brought about so much awareness in me. When I feel disempowered I reflect back on what Sheeja would say in a situation like this and I find answers that make me become a different observer and take different action. My results at home and the workplace are better now than ever before. I'm more confident than before on handling my personal and professional life. Overall, I feel my life is more in my control and I am in the driver's seat, rather than being at the mercy of situations or other people. Thank you very much Sheeja.

Deepa Dua - Business Owner - Pune, India