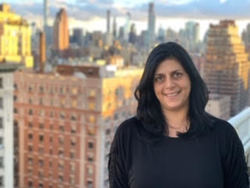 Sigal Greenberg

New York, New York
Relationship Coach, Family Coach, Life Coach
BA, MS, Certified Life Coach, Leadership That Works
Say "Yes" to Success! With my coaching you'll find confidence and feel empowered to take purposeful actions and build new pathways to a fulfilling, meaningful and joyful life. What is your Success?
Details

New York, New York 10004
1-929-430-4350
Send Message
Hourly Rate: $180 to $250 US Dollars
Gender: Female
About Me
You know you want change, but don't know what or how to reach it.
You're afraid to admit something feels missing in your everyday life.
You wish to start anew, but you keep finding yourself stuck in the old.
Time to say goodbye to unwanted patterns. I'll help you determine your goals and create new desired habits for a passionate and meaningful life.
Connect to your inner strength, love and wisdom so you can:
- Learn to recognize your needs and acknowledge your feelings; know what you want, and how to reach it.
- Prioritize. Say "No" to overburden and "Yes" to what really matters.
- Acquire self-management skills to bring order into what feels messy and chaotic and to find peace and quiet in the loud and noisy.
- Develop new habits and bring on more joy and happiness on a regular basis.
- Practice gratitude for what is, and feel empowered to ask for more.
- Feel good about yourself without the need for others' approval.
My Background: I grew up in Israel with openness to look at the world with curiosity, ask questions and seek creative solutions to experience life in an exciting and optimistic way. As a young adult I lived in Paris, France, for three enriching years. I've lived in New York City for more than two decades of personal and professional growth.
I have a BA in Economics from Tel-Aviv University and MS in Management from Bridgeport University. I worked in a variety of places, and raised two amazing daughters. Whatever I do, I choose to do with enthusiasm, attention to details, and with all my heart.
I received a CPC from Leadership that Works for their Coaching for Transformation ICF Certified course. Becoming a Certified Life Coach allowed me to deepen my natural skills and turn them into a thriving professional career. I bring to my coaching my love of life, optimism and faith.
Contact me today for a short conversation to find out if I can help you Dare to Dream and Love your Life. References available upon request.
Reviews
4 reviews (5.0)
I always thought I can only be happy if I were skinny. I tried many diets and methods. I lost weight but still wasn't happy. I gained the weight back. Until I started working with Sigal. Thanks to her sensible coaching, I realized there is so much in me to love and cherish. Sigal opened my mind to thinking differently. Instead of counting calories, I started counting blessings. Instead of thinking how much more I need to lose, I began appreciating my progress. I discovered I enjoy movement and being active. I feel energetic and awesome and when I look in the mirror I actually smile. Thank you, Sigal, for believing in me even when I had no such faith in myself.

Sarah, NY, USA
Sigal has a unique ability to open hearts. In a short time she helped me to understand myself. I learned to lead my life from a place of Love and Peaceful heart. Each time I encountered a challenge, obstacle, failure, regression, or just 'feeling down', I felt happy to know it is just a session away until Sigal will help me get back to a mode of Motivation, Joy, and Love of Life. I'm always so grateful to have found Sigal!!!!

Hilla, Tel-Aviv, Israel
"Sigal is a life coach who can hold you in her heart as she guides you into your own deeper awareness. My time working with Sigal was a blessing. She allowed me to uncover and own my intuition in my life, to really step into what is important with courage. When I started working with her I was afraid of my vision of my future. Now, I have a greater desire to show up and no longer hold myself back from the world and what I have to offer. Thank you Sigal!"

Brenda, NS, Canada
Coach Sigal truly gets it. She understands that some relationships are harder than others. While experiencing her coaching, she helped me tackle some deep-rooted issues in my familial relationships. With her support, I was able to make peace with what is and honor my feelings and the feelings of others. While working with Sigal, I could feel her warmth, presence, authenticity and courage. She's right there with you and she never gives up!

Kay, NJ, USA