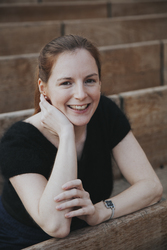 Tamara Driesmans

Palma, Balearic Islands
Career Coach, Business Coach, Life Coach
MA, Integral Coaching: Professional (YourCoach, Belgium - Teachers at YourCoach are ICF accredited), Life Coaching (University of Cambridge, UK)
Are you unhappy or feeling frustrated at work or trying to find a job that you like, but you keep struggling? I can help you to make the change that is needed to create a happier work situation.
About Me
Do you feel frustrated at work or are you dreaming of a job that matches your potential, but you don't know how to change the situation you are in? Do you feel like your energy is lost on tasks that don't seem to bring you any joy? Or are you unsure about what kind of job would be perfect for you or are you struggling to find a job?
We often get so absorbed by a certain situation, that the only thing we see is the problem. We get frustrated because we have to deal with this situation on a daily basis and it makes us so unhappy and exhausted that there is no energy left to have fun or make a change. I want you to know that with some help it is possible to find your way out and improve or radically change this unsatisfying situation you're in. What is needed is to redirect your attention, take a better look at what the root of the problem is, what the options are, and how to get started. Sometimes all we need is a different perspective, sometimes minor changes do the job, and sometimes a radical change is the only way out, but what is most important here, is that you feel happier and more satisfied about your situation. And this is exactly what we will try to achieve.
Why am I the coach you are looking for? I will tell you a little bit about myself: I have a bachelor 's degree in foreign languages and a master's in cultural studies and for several years I was working as a language tutor in Brussels. most of my students needed to improve their language skills for professional reasons. I started hearing about the issues they were having at work or the difficulties concerning finding a job. I noticed that many people were struggling with similar issues and I wanted to be more of help to them. I decided to learn more about the subject and tow years ago I became a certified coach. Today I have the tools and background to really help and make a difference. I love what I do and I hope to help a lot more people in the future.
Reviews
Tamara doesn't have any reviews yet.