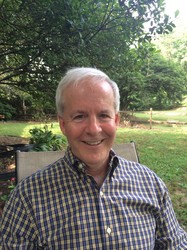 Tom Chaplin Alexandria, Virginia
Health and Fitness Coach, Career Coach, Life Coach
Certified Myers-Briggs Practitioner, CPCC, Certified Health Coach
What keeps holding you back or getting in your way of having what you want? Small changes can yield amazing results for your health in my Total Energy and Health Transformation.
About Me
After 25 years in Talent Acquisition, I took a risk and make what I expected would be a fairly simple transition into Career Coaching. I wanted to work with people who were stuck in their careers and needed help figuring out next steps.Career coaching took off pretty quickly.
Although I had always had an exceptionally strong interest in health and wellness, I did not feel prepared for the number of clients I was seeing who were struggling with different degrees of health related problems due to stressful working conditions. A few even became too physically ill to continue working.
As health and wellness started to dominate many of the coaching sessions, I looked for outside support from healthcare professionals to get insight. This quest eventually led to enrolling in Health Coach Institute.
Having the body, the health, the energy you want is very attainable. I witnessed first-hand the transformative impact health coaching can have on someone's life when they lose excess weight, manage blood sugar, increase energy, reduce stress, improve sleep and so much more.
I restructured my coaching practice to include Health & Wellness Coaching. I want to offer you a 45 minute Total Health and Wellness session that will cover:
• How to quiet the monkey mind to improve health and become more focused and productive.
• Discover the foods and lifestyle habits that are keeping weight on and robbing your energy.
• Learn how to eliminate food cravings and stop emotional eating.
• How to begin making permanent lifestyle changes that support total health and wellness.

This 45 minute invitation is a great opportunity to find out what it would be like to invest in your health and work with me as your personal Health Transformation Coach. Health Coaching helped me, it's helping others and it can help you too.
Reviews
Tom has 3 reviews.
My experience with Tom as my coach changed my life! With his help, I've learned more about myself than I ever thought possible, and learned the tools to help navigate tough decisions I face. It is the best feeling when friends and family notice a positive change in me, and I have Tom to thank for helping to guide me and learn how to put in the work to get where I am today!

Erin R., Communications Manager
Tom truly has a gift; one that can transform and empower you on your path. I absolutely love working with him. He has enriched my life and my outlook and my ability to be the person I am here to be. His coaching helped me to clear out all obstacles and give me the tools to sustain these skills in my daily life. He is such a gifted soul. He brings his years of corporate world experience into his ability to guide, transform and change those limiting thoughts that we all have, wrapped in his strong skill set of coaching. It can't get any better!"

Kim B., CEO - Non Profit
"When I first started working with Tom, I felt so 'stuck' I couldn't even articulate what I wanted to be coached on much less set any goals. Tom patiently worked with me through the process and helped me identify the personal problems that were keeping me from moving forward. Tom gave me a set of powerful tools to use that helped me not only deal with my personal issues but honestly, much of what was holding me back just seemed to disappear. I was able to set new goals and take some giant steps forward in a just a few months. I lost 26 pounds seemingly without effort and put plans into place to dig my way out of debt I had incurred from being unemployed for 9 months. Working with Tom has given me the power to 'dream big' again!"

Suzanne M., HR Director