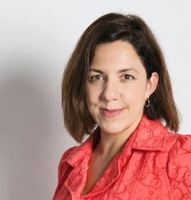 Contact Information:
+886 988 293 090
Visit Website
Anja Serfontein
Executive Coach, Life Coach, Health and Fitness Coach
BComm, MBA, Certified Professional Coach (ICA)
I am coaching Global Minds - both Expat Managers and their partners on their struggles abroad. There is a way to gain control of your busy life and make sure you unleash your full potential!
About Me
I coach Global Minds – in other words Expat Managers who are on a new assignment and often experiencing the first struggles in their new environment. My clients are driven individuals who are determined to produce great results.
Furthermore I help their accompanying partners to find their road to fulfilment, while living overseas – as the choices can be overwhelming or the cultural differences be mind-boggling.
My passion for living a sustainable healthy life has resulted in a program that is available for individuals as well as for organizations interested in 'Corporate Wellness'.
In the field of coaching, I am recognized for my warmth, passion and ability to see things despite the haze – so that my clients see their own path of success.
I have graduated from International Coach Academy as a Certified Professional Coach and simply love my profession.
Prior to that I have earned my degree in Economics in Germany and my Executive MBA from the Aalto University in Finland.
I gained substantial business experience growing up in a family business as well as my 10 years in the Automotive industry.
I have lived for over a decade in Asia and interacted with people from around the world. Currently I am an active member of the International Community in Taipei, Taiwan where I live with my husband and our wonderful daughter.
Anja is convinced that if you are committed to your goal: YOU CAN MAKE IT HAPPEN!
Try me - I have extensive and positive experience coaching my clients via phone and internet!
Reviews
Have you worked with Anja? Tell your friends!
My coach gave me 100% and more. In our sessions I felt heard. After the sessions I felt supported through the emails and the knowing that I could always revert back to her. I felt respected and honoured, acknowledged both in my strength and in my sides that need improvement. I love the feedback emails. I love the start up with the Discovery form. Anja can listen deeply while not being restrictive to the conversations. She kept me in line with the session while she also allowed movement of the conversation, so that we had room for creativitiy and changing routes if I had too. It was just great. I could write pages about how it was great for me. I do plan to continue working with Anja because her coaching not only brings me clarity but it inspires me.
The coaching feedback I've received from Anja has been really invaluable. She is always very objective about her questions and feedback. And she makes things funny when putting it all in perspective. Having a Global Expat coach is really useful to me as I am also an expat. There are very few people I can count on to have a shared similar experience who can give me objective guidance for how to get the most out of an unusual career.
Anja symbolises enthusiasm, positivity, determination and professionalism, for me she is a coach at heart. She is inspirational and empathetic. She is what I call the 'breakthrough' factor, she has jumped back to her feet successfully after being hit right down by life more than once and this is her gift to share. As one her lucky clients, I will always carry the wisdom we uncover during our coaching sessions. She was always there for me, listening, supportive, present and non judgmental. Look no further, you have found one of the best coaches out there.
Anja is a brilliant coach who immediately understands her client's needs and helps him/her to move in the desired direction. She has a great sense of humor that she uses in a very professional manner to establish and maintain an excellent relationship with her client. She has extensive cross cultural experience that enriches her coaching repertoire significantly. I can only recommend her
My goal was to lose weight and believe that I can have a 'normal weight' too. I furthermore wanted to learn about healthy food and get a good & workable exercise plan. Anja is a very positive and happy person. Her good vibes are spreading in her Coaching sessions. Through her own struggle in life I was able to see that I can change too! She helped me in an amazing way and I always will be grateful for that.