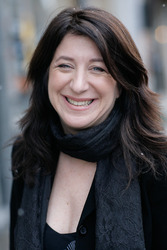 Contact Information:
514-266-3497
Visit Website
Carrie Katz
Life Coach, Business Coach, Career Coach
Professional and Personal Certified Coach - Concordia University
Calling on creative professionals including musicians, artists, authors & more who are ready for their next level. Ideal clients are just starting out or are seasoned professionals who want it all.
About Me
Carrie Katz is a graduate of Concordia University's Professional and Personal Certified Coach (PPCC) program. A member of ICF (International Coach Federation) her focus is on Career, Life and Creativity Coaching as well as giving Workshops. Carrie Katz has over 17 years experience as a Business Development Consultant within many diverse industries. As a professional singer/songwriter and writer, she has also worked directly in other creative enterprises such as; Film (Documentary and Feature), Television, the Music Industry and Theatre therefore giving her a unique position for entrepreneurs and business people both within Creative Fields and as a Business and Life Coach.
Carrie's approach to Coaching centers around interactive and experiential learning while helping clients achieve goals. Some of the goals could include strategies to stop struggling with making a living at doing what you love, or unraveling the patterns to difficult relationships that affect your progress, or for others it could be you are at a cross roads and need a clearer idea of what to do next.
Carrie Katz coaches her clients so that they can have a great life as a creative, cut through all the confusion, get focused and feel supported in a way that will accelerate your personal journey and growth.
Reviews
Have you worked with Carrie? Tell your friends!
"I had the opportunity to work with Carrie on some personal life challenges, when she was starting out as a life coach. My experience was extremely positive and I gained insight into my challenges through her ability to ask the right questions, at the right time.. She is motivating and compassionate and I would recommend her fully." January 27, 2011
"Carrie is the coolest coach I know! She has a wonderful, warm, open and fun-loving personality that lends itself perfectly to her chosen field. I attended a creativity workshop that was enlightening and fun. She's also a FANTASTIC singer/songwriter - I never get tired of listening to her CD
"Carrie has the ability to immerse herself completely into her work in a energized and focused way. You can count on Carrie to get things done and have fun in the process too! She is passionate about her music, her coaching and life! It is contagious!" March 21, 2010