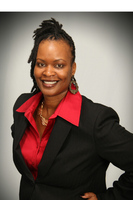 Contact Information:
Cherese Jackson
Leadership Coach, Family Coach, Team Coach
Certified Life Coach through New Direction Coaching Services
Those ready for a refreshing look at their circumstances and family with a down to earth approach in getting results. Remember, freedom comes when you start telling yourself the 'truth'.
About Me
Direct, witty, and relevant are just a few words to describe the incredible gift resident in Life Coach Cherese Jackson.
Drawing from traumatic situations in her past and the power of focus to overcome them, Cherese seems to cut directly to the issues at hand whenever she speaks. Having traveled extensively as a developer of Non-Profit & For-Profit organizations and churches she has always seemed to find herself as a coach, confidante and leader. There is a passion and purity countless audiences have discovered in her voice.
After spending several years in the Philadelphia area, she has married and joined forces with Early Jackson and together they have formed New Direction Coaching Associates; an organization dedicated to developing individuals, groups and companies to the core beliefs and visions that make them profitable in all they endeavor. Cherese has worked to help New Direction Coaching Associates successfully launch an interactive website, several CD productions, weekly and monthly empowerment events, as well as release the highly acclaimed book 'Groomed For Greatness' with a multi city book tour. Cherese is a member of the National Association of Professional Woman and has co-authored her first book with her husband, Early Jackson, entitled '50 Affirmations For Next Level Living'.
If you want that 'WOW' factor at your next event, if you are ready to take your department's team to the next level of accountability or you want to sit down with someone who won't feed you any 'bull', you are ready to meet Cherese Jackson!
Reviews
Have you worked with Cherese? Tell your friends!
I thought having Cherese as a coach and a friend would be hard. It took me months to actually setup an appointment but to my surprise it has been the exact opposite! EASY!
I feel blessed because I have the best of both worlds. Someone I can laugh and cry with, someone that has brought the worst out of me so I could be my best, and most importantly someone that I can trust!
I am definitely a better person because of her. Cherese is a true friend and great at what she does! It is very rare that you find AUTHENTIC people that you can be friends and do business with and I especially honored to have that in her.
If you want a better life from the inside out, she can definitely help you get there! I am not saying it will be easy but it will certainly be worth it!"
Cherese is clearly a great financial manager, and also a communications expert when it comes to all the facets of New Direction Coaching Associates. She was able to take organize the completion of events between Organik Design Studios and NDCA business dealings. We are thankful to have worked with her."
I have to tell you about my experience watching Cherese Jackson. She was completely amazing and one of the funniest and motivating speakers I have ever seen. I have been to many seminars and the fact that she was down to earth, brought real life experiences and the creativeness of her style of learning into her program made the experience stick with me in a way I could understand and I could use. I could take her technique into other places besides work, I could use them in life itself. She made me laugh, she made me cry and she made me want to tell others all about her and to stay on the funny side of life. Thank you Cherese for deciding to dance and become a professional storyteller and bringing us into your world.
Your presentation was uplifting, entertaining and enlightening. What a refreshing topic, and one that should be shared with all! You presented in a manner that was both humorous and entertaining, while still getting your message across to the entire audience. That's a hard combination to achieve, but you did it with style and grace. You would be a huge asset to ANY group who is looking for an amazing, one-of-a-kind speaker.
No matter the size of your business, your education or how long you have been in business, an Accountability Coach is a priceless asset to your success. Cherese has a unique gift of being able to see individuals for the unique and wonderful persons that they are and guide them to see their "destiny". I am excited to see how all of our local businesses grow at the hand of her coaching!
During my first meeting with Cherese Jackson I was very impressed. I realized that under her guidance I would be taught how to develop the skills that will unlock the door to my success. Whether you are a new business owner, recently promoted or on a new career path I highly recommend Cherese as your Accountability Coach.
Cherese is one of the most level headed, honest and experienced coaches I have worked with. She hits you right in the heart with frank advice that if followed, will affect your situation.
I loved your direct to the point approach and your ability to connect with your audience on all levels. Your presentation during our staff meeting was uplifting, colorful and well received.
Cherese you have been such a good role model to all. It is the wise words of our one on one consultations that I will remember most when I need encouragement and direction. Please continue to encourage people with that amazing spirit of yours.
I had the pleasure of working with Cherese for several years. Cherese always had a very positive and sociable attitude and left me with the sense the her work was performed with an extremely dedicated sense of accomplishment. She had unprecedented knowledge and was admired by all."
It was a pleasure to work with Cherese Jackson. Cherese's vocabulary is full of infectious inspiration and motivation. This coupled with her passion and keen skill set for coaching others, makes her a great asset to the coaching profession
Cherese is a daily inspiration and a breeze of fresh air to any person or business owner. I can personally recommend Cherese as a highly effective inspirational speaker, life coach and friend.
I personally use her guidance on a daily basis and have even incorporated her daily inspirational messages into my own business website.
As a business owner, I am faced with both individual challenges as well as business opportunities and challenges. Cherese is an integral part of my support network.She is a straight shooter, to the point and down to earth person and she has most definitely changed my perceptions and ideas in remarkable ways.
Cherese comes with a wealth of experience which she has built up over the years and her guidance is not only effective but very relevant to real life challenges.
I am blessed to have her as a confidante, a life coach and as a friend and personally recommend her to any person who may have challenges in any area of their lives."
Cherese is a fabulous life coach. I learned a lot about myself and how to be effective and efficient in my business. The skills I learned will are easy to implement and relevant to where I am in the business right now. The program kept me focused and moving forward. I would recommend utilizing her expertise if you're interested in taking your business to the next level!
Cherese walks the talk, and practices what she preaches. She literally overwhelms you with her passion for life and her enthusiasm for the work that she does. She has conviction in what she talks about because she is as successful as she is, due to having walked these paths herself.
Cherese is a mine of information and is generous with it. She is fun and exciting to be around, and you can't help but get caught up in her zest for life. Cherese has a way of opening your mind up to the possibilities.
You can not attend a presentation by Cherese Jackson without being moved to action. She delivers a powerful message that is sprinkled with facts & figures, battled tested examples and personal anecdotes. I admire her work and recommend her as an inspirational speaker for your next corporate event
Cherese presented a "time and energy" workshop to my clients. Her workshop had a big impact on my clients with many embracing goal setting and time management principles that up until then they had been reluctant to do. It has been six months since the workshop and I have seen significant changes in the lives of my clients since they have started applying the principles taught by Cherese. Everyone should hear Cherese's message