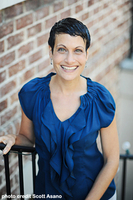 Contact Information:
404-729-0640
Visit Website
Dawn Smith
Life Coach, Career Coach, Spirituality Coach
Certified Interfaith Minister
I offer consulting and coaching for professionals at a crossroads. If you are at a turning point and seeking clarity and concrete guidance on your next steps, you are my ideal client.
About Me
Are you a professional who has reached a turning point in your life? Do you feel like you are being called to something greater? Do you feel overwhelmed with all the plates you have in the air? If this describes you, I would love to be of service to you.
I designed my practice specifically for individuals who have a sense of wanting to connect further with their greater purpose and to feel more fulfilled in their lives, but are looking for guidance in exactly how to get there in a concrete way. You could go to a counselor for the emotional support, or some kind of business/career coach for logistics advice, but there didn't seem to be much out there if you were looking for both. The coaching process I offer encompasses a holistic approach to identifying, developing, and manifesting goals; breaking them down into manageable components; developing a structure and timeline; and providing a system of accountability-- all within a compassionate, individualized format of support. The focus is on professional goals, but with an understanding that personal, professional, emotional and spiritual lives are all closely interrelated.
In addition to coaching, I am a counselor, interfaith minister, and writer who has written about holistic and spiritual living for a wide variety of outlets.
If my background and services feel like a good fit for you, I encourage you to set up a time for us to chat.
Congratulations on taking this next step-- I look forward to hearing about your journey.
Reviews
Have you worked with Dawn? Tell your friends!
I came to Rev. Dawn Smith of Silver Girl Coaching with a seemingly simple goal: help this girl get organized! It may seem like small potatoes, but not to me. In a year, I wanted to know that when my three young children wake in the morning, we can move through the day with more ease; that when I want to book a photography job, I can pull together all my equipment without hunting for various accessories; that with everything having its own space, I have the ability to explore Life's possibilities instead of always feeling like I'm in reaction-mode. Rev. Dawn approached my request with compassion and wisdom. She asked questions that got me thinking more deeply about the obstacles that keep me from living the life I just described. She offered ideas I'd not thought of before, and perspectives that supported me in a very loving way. Because when your life feels out of control, you feel ashamed for not being able to regain control. She understood this and didn't make me feel badly at all about wanting and needing help. Because of her compassion and empathy, we were able to come up with a plan to get me where I want to be this time next year. Rev. Dawn and I will continue to work together- and I'm excited!!
"The wedding was a hit! We had such a great time and the couple, their family and friends had very encouraging feedback as well! I can't tell you how grateful I am for your help. People couldn't believe it was my first time, thanks to all the great preparation you guided me through!"
"I've gotten more clear about what exactly is going on for me as far as not just income but also...about ministry and therapy and all of that. What this has really helped me do is get more logical about what I have to do right now. I'm more of a #1, #2, #3 kind of person and I have more direction now than I had before. Also, with my job, one of the people I worked with ... told me I was going to minister to people on the phone and I didn't realize how much that was true until you and I were talking."