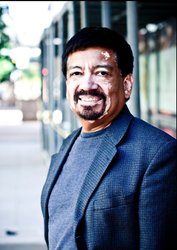 Edward Aldama Phoenix, Arizona
Leadership Coach, Business Coach, Relationship Coach
Certified Life and Business Coach
Are you struggling to reach your goals? Confused about what to do or how to get started? Use my simple 7 Step Goal Achievement Process to quickly create your Action-Plan and reach your goals.
About Me
My passion is working with clients who are tired of struggling and ready to learn the process and take the action necessary to reach their goals. Every successful goal achievement plan requires clear focus, burning motivation and effective action steps to reach the goal.
With a winning plan you can advance your career, improve your health, take control of your finances, create a successful business, or fire up your relationships. Call now for a Free Introductory Phone Session.
Here's a Truth: You and I are exactly where we are today because of the decisions we've made and the habits we follow.
Once you understand that, you can easily create the life you want going forward by making the decision to create new empowering habits that move you forward.
Together we will:
• Clarify exactly what you want.
• Zero in on your what really motivates you.
• Find the action steps and resources needed to succeed.
• Take consistent action with ongoing support to stay on track.
The complete 7 Step Goal Achievement Process is explained in my book, The Success Habit Secret: A 21 Day Success Program. Available at Lulu.com, and endorsed by self-development guru, Dr. Denis Waitley author of The Psychology of Winning.
My Transformational Life Coaching certification is from The Southwest Institute of Healing Arts in Tempe AZ, Business Coaching certification from BusinessCoach.com in Sacramento CA, an MBA from Western International University and a bachelor's degree in business from University of Phoenix.
As your coach I will personally walk you through the simple seven step process to quickly reach your goals and change your life.
I work with clients in-person, over the phone, or via the internet using Skype.
Are you ready to get clear and excited about reaching your goals?
Call now for your Free Introductory Session.
Reviews
Edward has 7 reviews.
I've had the pleasure to know and work with Edward Aldama for several years. In both personal and professional situations Edward has been a true inspiration and a valued source of new creative ideas. Walter Chrysler wrote "the real secret of success is enthusiasm".

Edward's secret of success is challenging the best in everyone he touches through enlightenment, entitlement and a systematic path to enrichment. I will continue to call on Mr. Aldama as I expand in my career.

Lynn W. , Project Manager, Phoenix AZ
Edward has an amazing energy he brings to his clients. He helped me zero in on what was blocking my goals and causing me dissatisfaction. Edward has a gift to help others see what they want and then develop a plan to move them in the direction they want to go in. By the end of our sessions, I felt the light had literally turned on again.

Stanfield N., Exec. Directory non-profit, New York NY
Book endorsement - The Success Habit Secret
"Focus always precedes success. Specific goals become the automatic software programs shaping your future. This book creates a 'success track' you can run on to make winning your daily habit, for the rest of your life."

Dr. Denis Waitley author The Psychology of Winning.
Edward has a talent for shining the light on the pitfalls you may be too close to
see. Once I could "see" it was easier for me to move in the right direction.
I am so glad I hired Edward. And, our sessions over the Internet via Skype were just as great as being there in front of him.

Shari H., Teacher, Chicago IL
Edward Aldama is a fantastic, intuitive business coach. I felt completely safe in his hands, and I felt as though what I needed to do was clear. He totally got where I was and what my needs were during our coaching time. I would recommend him to anyone looking for help with growing their businesses.

Wendy P., Topic Writer, Brooklyn NY
User Rating: 5 out of 5 stars
by Eric O 11/05/2008
I chose to work with Edward because he has a technical background, and I figured this would help him understand me better because I'm a technical guy. This is true, but he also understands people and can see our strengths which is something we often overlook ourselves. With his gentle accepting attitude he helps me see myself more clearly with every session. I find it calmly reassuring to know I have one more person on my side.
You owe it to yourself to take advantage of coaching! Why not give Edward a try.

Eric O., Security Personnel, Mesa AZ
I really enjoy working with Edward and find great value in our coaching sessions.
I particularly appreciate Edward's calm confidence, his positive outlook on life and his ability to always guide his clients to see their challenge without drama and take one step at a time. I like his gentle but firm guidance, his focus and organization skills, his ability to clearly outline strategies.
It is a great asset for the client to feel supported in a genuinely kind, yet a professional manner.

Olivia, Glass Artist, Phoenix AZ