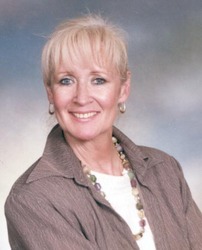 Elsbeth Tate Toronto, Ontario
Business Coach, Leadership Coach, Life Coach
CPCC, NLP, TLT, CHt, "Rebel with a Cause"
Connecting heart & purpose-centred WomenPreneurs & Coaches to what inspires them so they can break through their glass ceiling to transform their business and their life.
About Me
"A Spirit soaring from moment to moment is the experience of living in the leap. The only pre-condition for flight is trust." -- Rinaldo S. Brutoco
I believe, like the Dalai Lama does, that the world will be saved by the Western woman! It will be as role models and in collaboration with men. It is when we own and live into BOTH our masculine and our feminine energies and bring who we really and truly are to all aspects of our life, including the business arena, that we as a planet and a species, will thrive beyond our wildest dreams! It is when we as women and men can collaboratively work together that changes can and will be made for the better! We absolutely MUST be the change we want to create in this world! It starts with us! We must be the role models for future generations and you are only too old if you think you are!
I am the Chief Inspirational Officer for purpose-driven and heart centred women entrepreneurs and I believe in transformation through inspiration! I help you connect to a vision of a better world and your part in making that happen! It is all about collaboration versus competition and being both inspired and successful in the process!
I have been there and done it. I am a former accountant and business development course leader who found a better way to "do" business with courage and vulnerability. My mission is to keep you inspired and motivated as you grow your business; to create a business success plan that inspires you; to see the opportunities in every challenge and make what's possible for you a reality. To challenge your underlying beliefs that hold you back as a woman; to cut through to the heart of the matter and to be your sounding board and your mirror! If you are ready to take your business and your life to a higher level and having fun in the process, contact me for a complimentary 30 min. consultation by telephone.
Reviews
Elsbeth has 18 reviews.
...what makes her most valuable to me is her ability to identify habitual patterns of thinking and her skill in actively getting me to go beyond those habitual responses, to find the real opportunities in situations, and to begin working on them in a constructive and fruitful way. I recommend her highly to any executive looking to reach important goals, looking to change those habitual patterns that hold so many executives back, and wishing to lead a fulfilling, more balanced life. She is an awesome coach.

Geoff, PhD, Business Exec & Entrepreneur
Elsbeth is a powerful and compassionate coach, who has helped me process through numerous very stressful life issues that impacted my abiltiy to move on in my life. Elsbeth is tuned into "the heart"of the matter and can cut through the "crap" and help you get clear. Once clear, the decisions and actions come with ease. Life doesn't have to be a struggle, it can be truly joyful. I know this.

Joanne, Certified Coach & Entrepreneur
Elsbeth is an excellent coach. She is very inspiring and compassionate.
She kept me accountable to my vision and helped me move forward with
my coaching practice.


M.F., Certified Coach and Author
Elsbeth hears and responds to whatever I'm saying. Elsbeth's coaching is like a great bra! It forces one to head in the right direction, pushes and supports whenever and wherever appropriate, but doesn't make one feel constrained or self conscious.

Lynda, Certified Coach & Entrepreneur
I find Elsbeth to be a professional coach with very high integrity. She excels at holding her clients as big and seeing the possibilities for them. Personally, I grew from working with Elsbeth, as she guided me in seeing the parts of me I most keep hidden – the parts that are vulnerable and that get in my own way when I attempt to create the successful life I choose. Elsbeth always held me in a way that simultaneously let me know I was perfect just the way I am – AND that I have room to grow and change and develop.

A.S., Master Certified Coach and Author
"I hired Elsbeth when I was completing my own coach certification. Through her brilliant implementation and modelling of coaching skills, I was able to simultaneously address my own challenges and learn the subtleties of coaching. Elsbeth is a master in her field, highly skilled and incredibly effective at coaching her clients to success."

Gail, Certified Coach, Entrepreneur & Author
We never met in person, but we became good friends! I think of Elsbeth as an angel that was sent into my life at a very critical time. I had so many overwhelming concerns at the same time that I just couldn't deal with on my own. Elsbeth used several innovative techniques to help me think through various aspects of my life in an orderly fashion, while at the same time taking a big-picture perspective. She was amazing in her ability to pick up on key themes in my situation and reflect them back to me. That was the tone of the coaching - reflecting back to me what she heard me say, and helping me find my own insights. It was a life-saving experience. I highly recommend her services to those who are looking for the best life coaching available.

Kathy, Houston TX
Elsbeth was my first ever coach and the results of working with her set me up strongly in my life and career. I still reflect back on our work on values that helped me make a major career decision and every one of my business and personal decisions to this day.

Garry Schleifer, Publisher Choice Magazine, Certified Coach
Elsbeth is a first-rate coach who really does have a cause - to support you so that you can achieve your goals be the best you can be!

Mary Ann, Entrepreneur, Ont.
Elsbeth is a highly qualified and effective life coach who I worked with to clarify my life direction. Her support and inspiration led me on the road to become a coach myself. Thank you Elsbeth for your encouragement, and skill in helping me discover an important aspect of my life path.

Katie, Coach & Entrepreneur
I hired Elsbeth Tate as my life coach more than 5 years ago and to this day she brings a vibrancy and freshness to our coaching sessions. Over the years she has inspired, coaxed, lead and loved me to live my values, understand and move towards my full potential.

Elsbeth coached and mentored me during my own certification process, as well as a life changing leadership program. Her insight and brilliance as a coach was (and still is) a strong influence as I aspired to become as masterful in skill as she.

I recommend Elsbeth to anyone who has a desire to step up and forward, embracing change.

Tracy, Certified Coach, Singer, Canada & Barbados
Elsbeth is a powerful Coach who supports you to fulfill the vision you have for yourself.

Susan, Professional Training & Coaching Consultant, Ontario
I've known Elsbeth for a number of years as a colleague in the field of professional coaching. Elsbeth is a dedicated, creative coach, who brings her skills and passion as an educator an motivator to aid people in making good decisions about their work, lives and financial well-being, and in achieving their goals. I recommend working with Elsbeth if you want someone who will inspire you to live big and follow through on your most important work and life goals.

Val Olson, Career Management Consultant
Elsbeth offers an inspiring way to create a clear path of your desired future. Her insights will enhance deep understanding, which will then simply foster creativity and innovation. Elsbeth is truly playing a Bigger Game!

Rick Tamlyn Thought Leader, Author - Play Your Bigger Game, Keynote Speaker
For over a decade, Elsbeth has built a reputation as a credible professional coach whose talent inspires individuals to reach (if not exceed) their personal goals and dreams!

L.S., Ontario
Elsbeth is one of the most dedicated, committed, creative and focused coaches I know. She derives not only great Joy in doing excellent work with her clients but also knows that her client's success is a path to a better world. You will love knowing and working with Elsbeth Tate!

CC, Director, USA
I have known Elsbeth for over a decade. During this time, Elsbeth's dedication, passion, and pride in her profession has been a constant factor that her clients and colleagues see and appreciate. She is committed to cultivating her on-going growth as both a coach and human being and it is a pleasure knowing her as a colleague and friend.

D.C., MCC, Toronto
"Elsbeth is a fantastic coach, like a story teller helping you see your goals from a different perspective. She is thought provoking, intuitive and perfectly blunt, which helps you see what the truth is. I would highly recommend her for personal as well as professional coaching."

Christine, Makeup Artist,Toronto