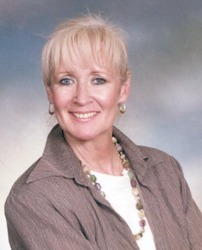 Contact Information:
905-642-6283
Visit Website
Elsbeth Tate CPCC PCC
Life Coach, Business Coach, Entrepreneurship Coach
Professional Certified Coach (PCC) is an advanced coaching credential issued by the International Coach Federation (ICF), the world's largest governing body for coaches.
Minimum requirements for PCC credential:
125 hours of coach specific training
10 hours of working with a mentor coach
750 hours of client coaching
25 clients
understands and abides by the ICF code of ethics
demonstrates advanced skills requirements based on the ICF coaching core competencies
Rebel with a Cause
Are you a heart-centered woman entrepreneur inadvertently using a masculine success formula which isn't working for you? Do you sense deep down there is a better way to "do" business?
About Me
"A Spirit soaring from moment to moment is the experience of living in the leap. The only pre-condition for flight is trust." -- Rinaldo S. Brutoco
My ideal clients are women entrepreneurs who want to bring more heart and soul into this world. These women feel they have a larger purpose than simply providing a living for themselves and their family - they want to make a BiG DIFFERENCE and leave behind a legacy. They are the role models for future generations!
Is taking a risk more attractive than maintaining the status quo however old fears are holding you back? Do you want to bring more heart and soul into your business but are afraid what others might say? Are you afraid of being ridiculed for being courageous enough to be vulnerable? Do you want to be collaborative versus competitive? Do you want abundance versus scarcity?
I am the Chief Inspirational Officer for purpose-driven and heart centred women entrepreneurs and I believe in transformation through inspiration. I help you connect back to your dream and vision - that powerful place of inspiration! I help you set intentions and make decisions from a place of heart and soul. I help you to identify your ideal clients and customers and help you to engage with staff and clients from a place of inspiration.


I have been there and done it. I am a former accountant and business development course leader who found a better way to "do" business with courage and vulnerability. My mission is to keep you inspired and motivated as you grow your business; to create a success plan that inspires you; to see the opportunities in every challenge and make what's possible for you a reality. To challenge your underlying beliefs that hold you back as a woman; to cut through to the heart of the matter and to be your sounding board and your mirror! I help you to create your own unique success formula that is intuitive and inspiring.
If this resonates with you, I would love to hear from you!
Reviews
Have you worked with Elsbeth? Tell your friends!
...what makes her most valuable to me is her ability to identify habitual patterns of thinking and her skill in actively getting me to go beyond those habitual responses, to find the real opportunities in situations, and to begin working on them in a constructive and fruitful way. I recommend her highly to any executive looking to reach important goals, looking to change those habitual patterns that hold so many executives back, and wishing to lead a fulfilling, more balanced life. She is an awesome coach.
GC, PhD, Business Executive & Entrepreneur, Nova Scotia
Elsbeth is a powerful and compassionate coach, who has helped me process through numerous very stressful life issues that impacted my abiltiy to move on in my life. Elsbeth is tuned into "the heart"of the matter and can cut through the "crap" and help you get clear. Once clear, the decisions and actions come with ease. Life doesn't have to be a struggle, it can be truly joyful. I know this.
Elsbeth hears and responds to whatever I'm saying. Elsbeth's coaching is like a great bra! It forces one to head in the right direction, pushes and supports whenever and wherever appropriate, but doesn't make one feel constrained or self conscious.
"I hired Elsbeth when I was completing my own coach certification. Through her brilliant implementation and modelling of coaching skills, I was able to simultaneously address my own challenges and learn the subtleties of coaching. Elsbeth is a master in her field, highly skilled and incredibly effective at coaching her clients to success."
Elsbeth was my first ever coach and the results of working with her set me up strongly in my life and career. I still reflect back on our work on values that helped me make a major career decision and every one of my business and personal decisions to this day.
Elsbeth is a first-rate coach who really does have a cause - to support you so that you can achieve your goals be the best you can be!
Elsbeth is a highly qualified and effective life coach who I worked with to clarify my life direction. Her support and inspiration led me on the road to become a coach myself. Thank you Elsbeth for your encouragement, and skill in helping me discover an important aspect of my life path.
Elsbeth is an energetic coach who keeps her clients on the right track so they can achieve their career desires.
"Elsbeth is a fantastic coach, like a story teller helping you see your goals from a different perspective. She is thought provoking, intuitive and perfectly blunt, which helps you see what the truth is. I would highly recommend her for personal as well as professional coaching."