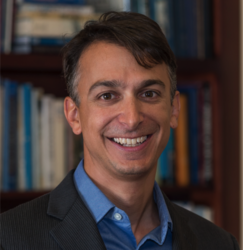 George Karris San Diego, California
Career Coach, Executive Coach, Business Coach
BA, MBA, Trained Positive Psychology Coach, Inside-Out Coach
I help highly successful professionals get clarity of direction and position themselves for professional success.
About Me
I work with three core sets of clients:
1. Those pondering a career move - I help senior professionals get clarity on their next career move.
2. Those seeking new careers/jobs - I guide senior professionals in telling their unique career stories in a way that stands out from the crowd.
3. Business owners - I work with business owners, in particular financial advisors, on the strategic positioning of their businesses.
What makes me unique? Experiences like...
-Running a 230 person bi-coastal team with a $15M budget
-Setting corporate strategy for a $4B financial services company
-Leading innovation efforts with a $1.3M budget
-MBA from Harvard Business School
...in other words, real executive experience AND coaching training.
Reviews
George has 11 reviews.
After just one conversation, I found that George has a deep passion for understanding the personal motivations and values that drive people and helping them define opportunities to better align their life's activities with those goals and values. George brings a perfect combination of academic principles / frameworks and real-world executive experience to his coaching. Over the past few years I have been challenging myself to think about my life's "purpose" beyond an executive job and role as a parent. In a recent session, through a series of questions and frameworks, George helped me discover what this "a ha" might be that I've been searching for. I would highly recommend George to anyone looking for executive coaching or someone to help them translate aspirational life goals into reality.

Strategy Executive, San Diego
After graduating from law school I became frustrated with the job seeking process. George helped me to take a step back and refocus my efforts. Instead of using a shotgun approach, George sat down with me and asked the hard questions to help me identify my goals and emphasize my strengths. Thanks to George I was able to clarify my story and more effectively communicate my story to potential employers. With a background in marketing, it was hard to ask for help to market myself, but George's outside perspective was invaluable to creating my action plan.

Attorney, San Diego
I was skeptical about hiring a career coach and initially tried going it alone. After going it alone for close to a year I realized I wasn't making progress. Having worked with George for many years in Corporate America I knew he was an extremely intelligent and talented person who I hold in the highest regard. We began with a conversation on how he works with clients, helps identify what's important to them, and develops a roadmap to achieve their goals. Before working with George, I viewed a career coach or executive coach as an expense but what I quickly realized is it isn't an expense but a very important investment in your career. Through scientifically proven methods and steps, George helped me identify the most important aspects in my life and what brings me happiness. Not stopping there we then developed a roadmap and eliminated the opportunities that didn't fit my needs which created a more focused vision. I found this to be very liberating and powerful. The guidance and coaching George provided has been invaluable and has resulted in a clear vision of where I want to go and the steps I need to take to get there. It was also hugely beneficial in my job search.
I highly recommend George as a career coach, executive coach, and resource to execute an effective job search.

J.S, VP Finance, Seattle
Working with George is great, because he has the winning combination of intelligence, humor and work experience to help you think through your career goals. He handles the tough questions well, and guides you to think deeply and clearly about your future ambitions. I worked with two coaches before who were mostly useless, but George was genuinely invested in my future success.

C.E., VP Relationship Management, Boston, MA
I worked with George on exploring my job responsibilities and the negative effects my role was having on my career and personal life. Through our conversations I found that George was able to provide guidance from a corporate perspective as well as a quality of life perspective. As a result of working with George, I made changes in my professional and personal life, and am in a much better place today.

J.T. Technology Executive
George's career coaching has been invaluable to me. I have much more clarity on what I am trying to achieve and have renewed energy for my career.

Financial Analyst, San Diego
George's email system made me so much more productive and less stressed. I don't know what I did without it.

Key Account Manager, San Diego
I've had the privilege of working with George for over 3 years. He brings enthusiasm and energy to everything he does. A wonderful strategic thinker, he does not live in the bubble of strategy, but combines that ability with a strong bias towards execution. He was one of those rare individuals who exhibits both high intellect (IQ) and strong EQ. His innovative way of thinking allows him to see facets of a situation that others don't and provide guidance on exactly what options exist. He also has passion for helping and making a difference in other people's lives and is a great coach and mentor to others. I consider myself fortunate to know him.

Strategy & Operations Executive, San Diego
George is an exceptional leader, thinker, and business partner. George worked with the top management at LPL and IDEO to implement Design Thinking as a process for innovation. He was able to manage the process, people, and cultural dynamics to help our teams drive toward success. He is passionate about innovation and has the knowledge and 'get it done' mentality to help organizations transform to become more innovative.

Innovation Executive, San Francisco
It [working with George] is a small span of time, but will be a defining moment because it does gives you that confidence to take your career trajectory to another level."

Scott P, Marketing Professional, San Diego
George is exceptionally talented at not only positioning yourself for the best possible results and professional reputation on LinkedIn but also is extremely helpful with navigating the ins and outs of how to make contacts and how to maximize your visibility to potential employers - I highly suggest his online videos as a starting point and enthusiastically endorse George for his LinkedIn "insider" skill set!

Bill D., Private Equity Analyst, New York